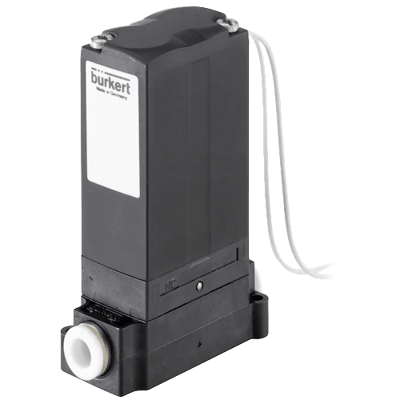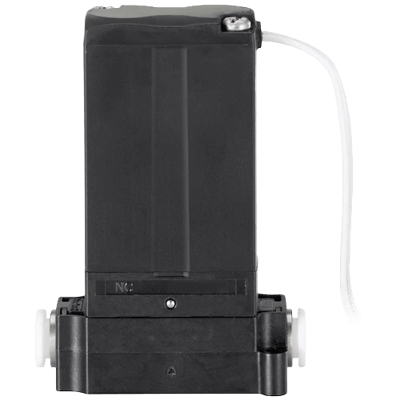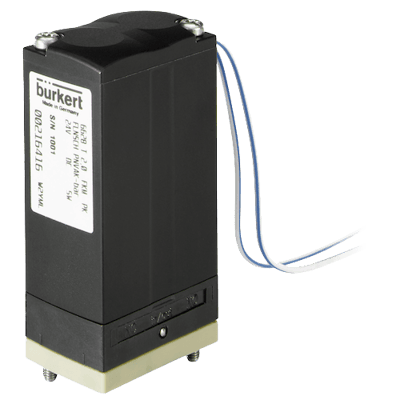 Images are representations only.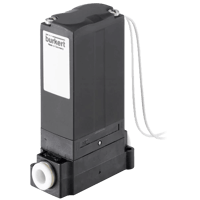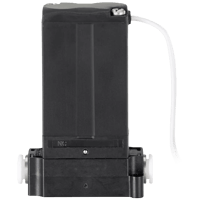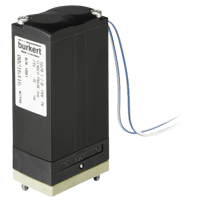 Direct acting medium separated 2/2- and 3/2-way Rocker Solenoid Valve for control of aggressive fluids and gases in analytical medical applications, the food industry, and also the chemical industry for dosing, filling, mixing and distribution.

The medium is in contact with fluid housing and seal material solely through the isolating diaphragm.

This valve with the new TwinPower actuator, robust screw-in connection and 0.86" (22 mm) installation width, will fulfil the highest requirements. The established rocker solenoid technology is characterized through full back pressure tightness, good rinsing capability and low internal volume.

Type 6628 is available in different technical versions and by virtue of several body options, it offers a perfect adaption in fluid applications.
Features
Isolating diaphragm for high chemical resistance
Circuit function NC, NO and 3-way universal
Back pressure tightness via rocker principle
Minimal internal volume with excellent cleanability
Specifications
Ambient Temperature Range
EPDM: -10° to 55° C (14° to 131° F)
FFKM: 10° to 55° C (50° to 131° F)
FKM: 0° to 55° C (32° to 131° F)
Cable Length
Electrical Connection: 1.64 feet (0.5 Meter)
Diaphragm Material
Medium Contact: EPDM
Medium Contact: FFKM
Medium Contact: FKM
Differential Pressure
psi: 29 to 72.5 (kPa: 200 to 500, bar: 2 to 5) - Max.
Duty Cycle
100 % Duty Cycle Continuous Operation
Electrical Connectors
PFA Single Flying Leads, 0.5 mm²
Rectangular Plug for Cable Plug Typical 2505
Electrical Contacts
Normally Closed
Normally Open
Enclosure, Body Material
Fluid (Medium Contact): PEEK
Fluid (Medium Contact): Polypropylene (PP)
Fluid (Medium Contact): PVDF
Valve, Fluid (Medium Contact): Polyphenylene Sulfide (PPS)
Environmental Protection
IP30 with Rectangular Plug Typical 2505
IP54
Flow Rate
Air: 110 to 180 QNn (L/min)
Water: 0.1 to 0.17 Kv (m³/hour)
Materials of Construction
Media
Aggressive Gases & Liquids
Mounting Position
Preferably with Actuator Upright
Orifice Size
0.07" to 0.11" (2 to 3 mm)
Power Supply
12 Vdc ± 10 %
24 Vdc ± 10 %
Pressure Range
psi: -72.5 to -29 (kPa: -500 to -200, bar: -5 to -2)
Process Temperature
EPDM: -10° to 55° C (14° to 131° F)
FFKM: 10° to 55° C (50° to 131° F)
FKM: 0° to 55° C (32° to 131° F)
Response Time
Opening, Closing: 25 milliseconds (Pressure Build-Up 0-10 %, 100-90 %)
Screw Material
Fixing (End-to-end): Stainless Steel
Seat / Seal Material
Flange Seal: EPDM
Flange Seal: FFKM
Flange Seal: FKM
Analytical medical applications
Food industry
Chemical industry