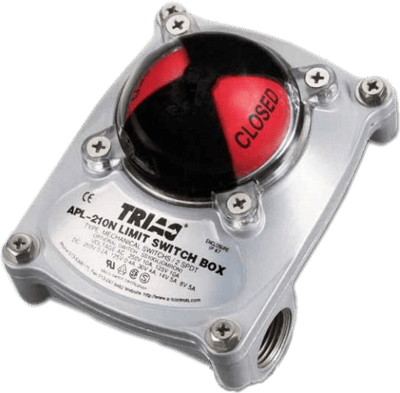 Images are representations only.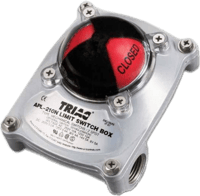 The Triac® APL Series Limit Switches feature high quality, easy to use, multiple option switch boxes for rotary actuators.

Their die-cast aluminum housings are powder coated for corrosion resistance and feature open/close visual indicators, quick-set cams and easy access terminal strips.

These economical switch boxes offer numerous switch, sensor and transmitter options to handle most applications found in today's process and industrial markets.
Features
Die-cast Aluminum Powder Coated Enclosure
Captive Cover Bolts
Namur Mount Brackets
Quick-set Spring Loaded Cam
Dome Visual Indicator: 3-way Available
Up to Four Switches on APL 3, 4 and 5 and Various Mechanical, Proximity and Reed Type Sensors, Feedback Potentiometers and 4-20 mA Transmitter Options.
APL 2 Series "Compact" Switch

CSA Approved, Type 4X
Solid, Compact, Low-profile Design
Dual 1/2" NPT Conduit Entries, 8 Points on Terminal Strip
Ambient Temperature Range -20° to 80° C
2 SPDT Mechanical Micro Switches
APL-218 2 SPDT Gold Plated Micro Switches Make it Useful as a Simple Device for Intrinsically Safe Applications.
APL 3 Series Limit Switch

CSA Approved, Type 4X
Rugged And Flexible Design
Dual 1/2" NPT Conduit Entries, 8 Points on Terminal Strip
Ambient Temperature Range -20° to 80° C
APL 4 Series Limit Switch

CSA Approved, Class I, Division 1, Groups C & D T6 Class I, Zone 1, AEx d IIB, T6, Ex d IIB, T6, Type 4X/6, IP 66/67/68
ATEX/IECEx Rating Available: Ex d IIB T6 Gb (APL-410N-ATEX)
Dual 3/4" NPT Conduit Entries, 8 Points on Terminal Strip
Ambient Temperature Range -20° to 60° C
APL 5 Series Limit Switch

CSA Approved: Class I, Div 1, Grps B, C & D T6; Class II, Div 1, Grps E, F, G; Class III - Class I, Zone 1, AEx d IIC, T6; Class II, Zone 21, AEx tb IIIC T65° C Db;
Ex d IIC, T6; Ex tb T65° C Db; Type 4X/6, IP 66/67
ATEX/IECEx Rating Available: Ex d IIC T6 Gb, Ex tb IIIC T85°C Db, IP 67 (APL-510N-ATEX)
Available with Stainless Steel Enclosure
Dual 3/4" NPT Conduit Entries, 8 Points on Terminal Strip
Screw-on Enclosure Lid with Spring Loaded Captive Cover Bolts - Unique Design to Hold Bolts Inside Cover
Ambient Temperature Range -20° to 60° C / -4° to 140° F
Low Temp Option Down to -50° C / -58° F with C1, C3 Switches Only
APL 9 Series Stainless Steel Limit Switch

Type 4X, IP 67 - CSA Pending
304 Stainless Steel Enclosure
Stainless Steel Shaft & Captive Cover Bolts
NAMUR Stainless Steel Mounting Bracket Included
Ambient Temperature Range -20° to 80° C
4 models matching criteria
Specifications
Display
Dome Indicator - L Port
Dome Indicator - T Port
Standard Red/Green Indicator
Electrical Rating
0.1 A at 125 Vac / 8 Vdc / 14 Vdc / 30 Vdc
10 W Max.
16 A at 125/250 Vac, 10 A at 30 Vdc, 0.6 A at 125 Vdc
20 A at 125/250 Vac, 1 A at 125 Vdc, 1 hp at 125 Vac
Mounting
2R20 Thru 2R300, VDI-3845 30 mm to 80 mm to 20 mm High Pinion
THD Series Heavy Duty Actuators
Switch Type
DPDT Mechanical
P&F NBB2-V3-E3 Limit Switch, 3-Wire, PNP Sourcing, 10-30 Vdc, 100 mA at 30 Vdc
P&F NJ2-V3-N, 2-Wire, NAMUR Output, Not Amplified, 15 mA - Max.
SPDT Mechanical, Gold-Plated, 3-Wire NPN Inductive Solid State Sensor,
SPST Reed Proximity Switch
Ambient Temperature
-20° to 80° C (-4° to 176° F)