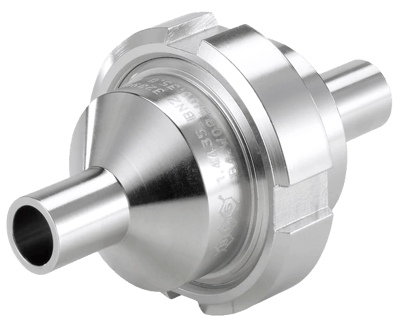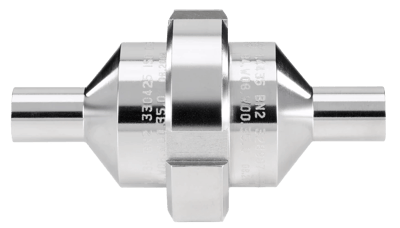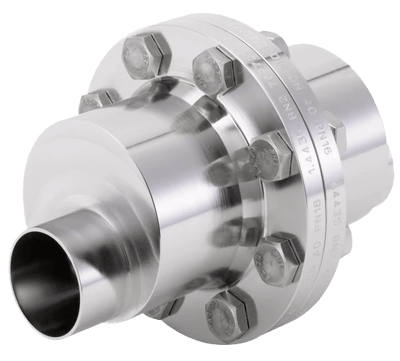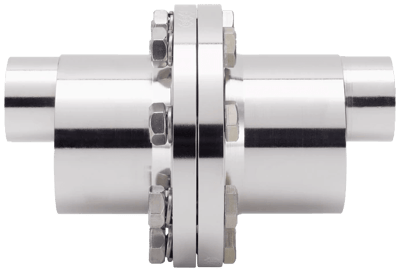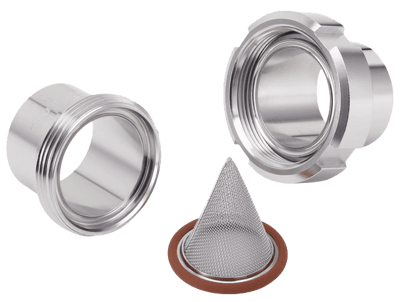 Images are representations only.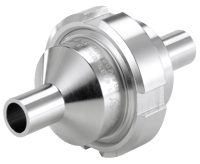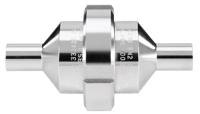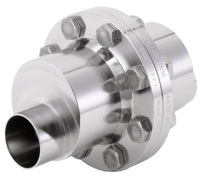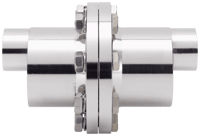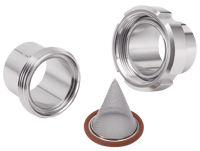 The sterile check valves are appropriate for fluids and steam sterilization. The design is so created that the flow direction is selectable, which improves the cost and simplicity of installation significantly. The new standards in the biotechnology and pharmaceutical industry are met.

These valves are suitable for horizontal applications, and still fully drain. The standard check valves have a opening pressure of psi: 2.90 (kPa: 20, bar: 0.2).
Features
All medium contact materials traceable
Suitable for CIP and SIP (cleaning in process)
Flow direction selectable
Self draining in horizontal installations
Specifications
Ambient Temperature Range
-20° to 80° C (-4° to 176° F)
Applications
Biotechnology
Chemical Industry
Cosmetics
Diary
Food
Pharmaceutical
Approvals & Certifications
FDA - All the Stated Seal Materials
Approvals & Certifications
Material Certificate 3.1
USP VI - EPDM, FEP, PTFE
Ball Material
AISI 316 Stainless Steel - 1.4435 BN2 with PTFE Ball
Ball Cap: PTFE
Enclosure Finish
Electro-Polished (Medium Contacted Surface < Ra 0.8 μm)
Materials of Construction
AISI 904L Stainless Steel, 1.4539
AISI F44 Stainless Steel, 1.4547
AISI F53 Stainless Steel, 1.4410
Hastelloy C2
Medium Contact: AISI 316L Stainless Steel (1.4435) BN2
Medium Separated: AISI 303 Stainless Steel, 1.4305
Operating Pressure
psi: -14.5 to 232 (kPa: -100 to 1,600, bar: -1 to 16)
Orifice Size
0.31" to 3.93" (8 to 100 mm)
Spring Material
Spring: AISI 316 Stainless Steel, 1.4401
Welded Connection
1" Weld End
1/2" Weld End
1/4" Weld End
1-1/2" Weld End
2" Weld End
2-1/2" Weld End
3" Weld End
3/4" Weld End
3/8" Weld End
4" Weld End
Biotechnology
Pharmaceutical
Chemical industry
Dairy
Food
Cosmetic