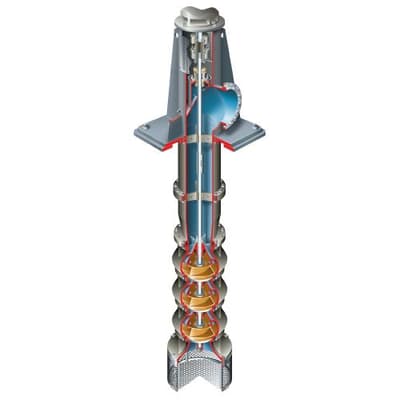 Images are representations only.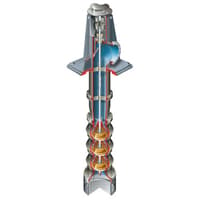 The VTP vertical turbine pump is a diffuser type, single or multistage design for continuous service in wet pit and deep well applications.

With more than 300 bowl and impeller designs, the VTP provides unsurpassed hydraulic coverage to ensure the best pump selection for a wide variety of services.
Features
Open Or Enclosed Lineshaft Construction.
Enclosed Or Semi-Open Impellers, Keyed Or Collet Mounted.
Bowl And Enclosed Impeller Wear Rings.
Cast Iron Or Fabricated Steel Discharge Heads.
Sealing Configurations For Open Lineshaft Construction.
Packed Box With Flexible Graphite Packing.
Single Or Dual Mechanical Seal.
Sealing Configurations For Enclosed Lineshaft Construction.
Enclosing Tube Tension Assembly For Oil Lubrication.
Water Injection Packing Assembly.
Above Ground Or Below Ground Discharge Flanges.
Multiple Drivers.
Electric Motors, Solid Or Hollow Shaft.
Engines With Right Angle Gear Drives.
Steam Turbines.
Separate Axial Thrust Bearing Assembly.
Standard And ISO 13709/API 610 (VS1), Latest Edition Configurations.
Specifications
Configurations
Byron Jackson Wet Pit Pumps - VTP
Deep Well
Flowserve Wet Pit Pumps - VTP
NSF61-G Certified
Short Coupled
Western Land Roller Wet Pit Pumps - VTP
Worthington Wet Pit Pumps - VTP
Operating Parameters
Flows to 13 600 m³/hour (60,000 gpm)
Heads to 700 m (2300 ft)
Pressures to 100 bar (1450 psi)
Settings to 365 M (1200 Ft)
Temperatures from -45° C (-50° F) to 300° C (570° F)
Size Range
Sizes from 150 mm (6") to 1375 mm (55")