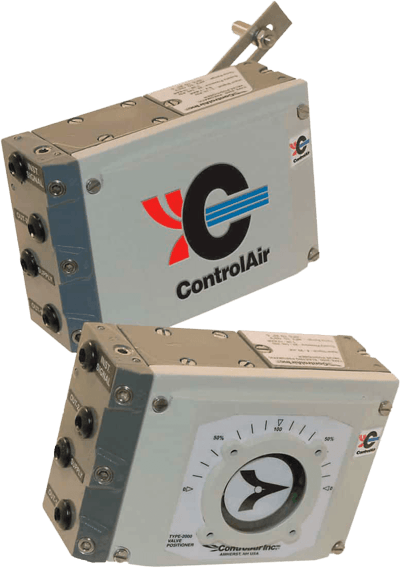 Images are representations only.
Type 2000 Pneumatic and Electro Pneumatic Valve Positioner
Brand:
ControlAir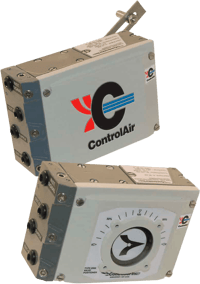 The ControlAir Type-2000 pneumatic and electro-pneumatic positioner provides stable and accurate positioning of rotary and linear valves.

The force balanced instrument is simple, reliable and user friendly for calibration, maintenance and field upgrades. The electro-pneumatic unit is available with worldwide safety approvals in an Intrinsically Safe and Explosion-proof version.

The NEMA-4X (IP 66) housing provides rugged resistance to severe industrial environments. The modular design of the Type-2000 allows multiple feature ordering options or easy field conversions.
Features
Rotary and linear
Optional 4-20 mA feedback or mechanical switches
External zero adjustment for easy calibration 
Vibration, position and shock insensitive
High gain pilot valve Provides quick and accurate valve/actuator response 
Standard pointed indicator (rotary), standard blank cover (linear) and optional raised beacon 
High maximum supply pressure 145 psig (10 Bar)
Specifications
Input for Pneumatic (CA2000)
3 - 15 psig (0.2 - 1.0 bar)
Input for Electro-Pneumatic (CA2005 / CA2010 / CA2011)
Supply Pressure (CA2005 / CA2010 / CA2011 / CA2020 / CA2021)
22 - 145 psig (1.5 - 10 bar)
Flow Capacity at 29 psig Input
Flow Capacity at 145 psig Input
Linearity Error
Better than 0.7 % Full Stroke
Hysterisis Error
Better than 0.4 % Full Stroke
Repeatability
Better than 0.3 % Full Stroke
Ambient Temperature Limits
-40° to 185° F (-40° to 85° C)
Port Sizes
Pneumatic: 1/4" NPT
Gauge Ports: 1/8" NPT
Electric: 1/2" NPT or M20-1.5 ATEX
Media
Clean, Dry Oil - Free Instrument Air
Enclosure
NEMA 4X / IP66 Aluminium with Polyester Epoxy Finish