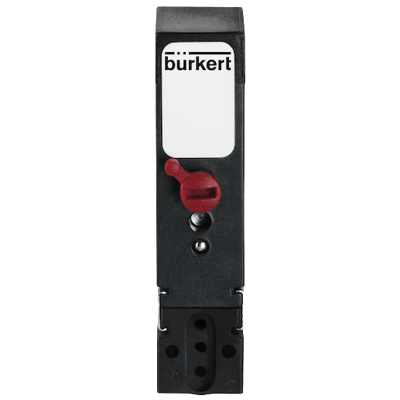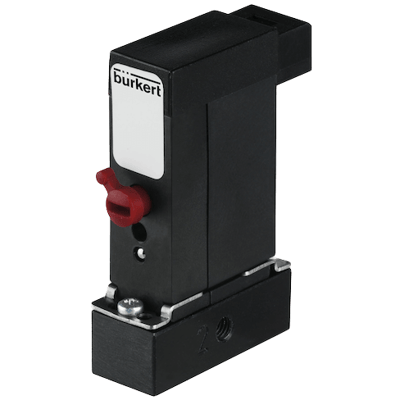 Images are representations only.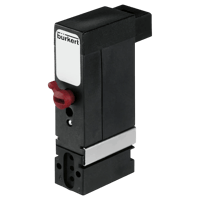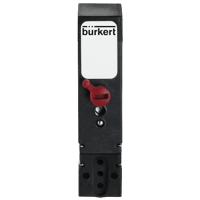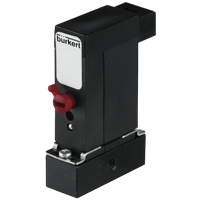 Type 6144 is a direct-action 3/2 way solenoid valve designed for neutral gases and liquids.

Through the movement between the 2 end positions, the switching element (flipper) seals one of the two opposing valve seats and connects the other to the working port. This movement is caused by the solenoids magnetic field pushing a permanent magnet that is fixed to the flipper element.

In addition to its exceptional performance characteristics, the flipper principle is especially marked by its very low switching noise and its low wear level. Furthermore, integrated medium separation enables use above and beyond pneumatic applications.

Depending on the case of operation, various flange connections are available that are suitable for both individual and block mounting.
Features
Direct-acting
Low power consumption
Sub-base connection
Standard, EEx ia Version
Specifications
Ambient Temperature Range
-10° to 55° C (14° to 131° F)
Approvals & Certifications
ATEX II 2 G Ex ia IIC T4 T5 T6 PTB01-ATEX-2048 - Ex Version
Class 3 According to VDE 0580
IECEx PTB 07.0063
Current
Holding Current: 23-29 mA Min.
Duty Cycle
100 % Duty Cycle Continious Rating
Electrical Connectors
Blank Connector (5.08 mm)
Circular Plug M8 x 1
Flying Lead 0.22 mm²
Electrical Contacts
Normally Closed
Normally Open
Enclosure, Body Material
Polyphenylene Sulfide (PPS)
Flow Rate
0.0075 m³/hour (Kv) - Water
Air: 8.5 QNn (L/min)
Function
Switching: Bistable (Impulse)
Switching: Monostable
Materials of Construction
Media
Compressed Air Lubricated
Neutral Liquids & Gases (5 μm Filtering)
Oil-Free or Dry
Technical Vacuum
Mounting Position
Preferably with Actuator Upright, 5 mm Min. Distance to Ferromagnetic Materials
Operating Voltages
Battery Voltage: 12 Vdc
Battery Voltage: 24 Vdc
Pressure Range
psi: 0 to 145 (kPa: 0 to 1,000, bar: 0 to 10)
Process Temperature
-10° to 55° C (14° to 131° F)
Resistance
Nominal Coil: 320 to 510 ohms ± 4 %
Response Time
EX Version Close (Pressure Rise 100 to 90 %): 18 milliseconds
EX Version Open (Pressure Rise 0 to 10 %): 14 milliseconds
Standard Version Close (Pressure Rise 100 to 90 %): 10 milliseconds
Standard Version Open (Pressure Rise 0 to 10 %): 8 milliseconds