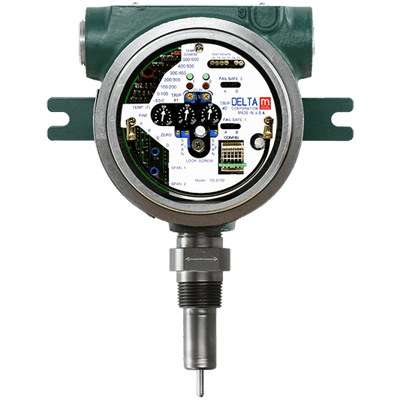 Images are representations only.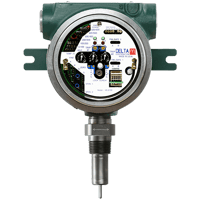 Simple field adjustable thermal differential switch for mass flow, level, and/or temperature of liquids or gasses with time delay adjustable from 0 to 300 sec.
Wide operating temperature range -100° to 850° F (-70° to 458° C).
User configurable operating power 110Vac, 220Vac, or 24Vdc.
Removable, plug in electronics.
Can be configured with 2 independent outputs, such as level or mass flow with temperature or two mass flow rates.
Level response time of .1 to 1 second on wetting, media dependent
Flow response time of .5 to 10 seconds, media dependent
Can be used for either gas or liquid applications including interface detection.
Self heating sensor design improves repeatability. No separate heater to fail or slow response time.
Specifications
Alarm
Continuous Monitoring Circuit to Alarm Should a Failure Condition of any Sensor, Component, Wiring, or Power Occur
Approvals & Certifications
CSA - Class I, Div. 1, Groups B,C, & D & Class 2 Div. 1, E, F & G with T4A Temp Rating.
FM
UL
Enclosure, Body Material
316L Stainless Steel
Hastelloy
Inconel
Monel
Other Exotic Materials
Environmental Protection
Explosion-proof
IP54
IP66
NEMA 3, 4, 4X, 7, 9 / IP54, 66
NEMA 4
NEMA 4X
NEMA 7
NEMA 9
Flange Size - 1" (DN 25)
1" (DN 25) - 150#
1" (DN 25) - 300#
Flange Size - 2" (DN 50)
2" (DN 50) - 150#
2" (DN 50) - 300#
Flow Rate
Gas: 0.1 to 500 FPS
Liquid: 0.01 to 5.0 FPS
Length
Insertion Option: ≥ 0.5"
Insertion Standard: 2.0"
NPT Connection
1" NPT Male
1/2" NPT Male
3/4" NPT Male
Operating Temperature - Electronics
-40° to 60° C (-40° to 140° F)
Operating Temperature - Sensor
-70° to 458° C (-100° to 850° F)
Power Requirement
110 Vac
220 Vac
24 Vac
24 Vdc
Pressure Range
psia: 3,000 (bar: 207, kPa: 20,684)
Process Connection - Other
Low Flow Sensor
SP76 Sensor
Response Time
Media Dependent 0.5 to 10 seconds
Sensor, Probe Type
Dual RTD Sensors
Thermal Differential
Tri-Clamp Connection
1-1/2" Sanitary with 3A Stamp