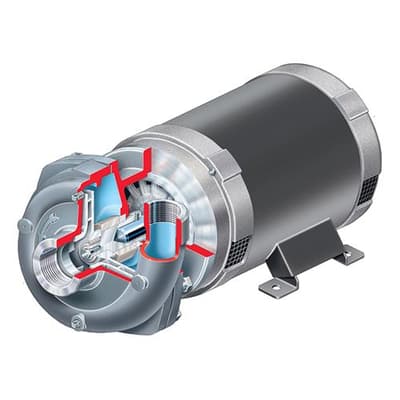 Images are representations only.
The horizontal frame mounted SMP single stage, standard motor pump has evolved as Flowserve design engineers have anticipated the growing and diverse applications requiring economical and reliable pumping.

Their attention to SMP's mechanical construction, materials and hydraulics has resulted in unsurpassed satisfaction and low life cycle cost for users.
Features
High-Efficiency Semi-Open Or Closed Impeller Is Keyed To The Shaft For Positive Drive.
Stub Shaft Design Permits Use Of Readily Available Industry Standard Motors And Allows Easy Shaft Replacement In The Field.
Industry Standard NEMA Motor (1000 And 2000 Series) Results In Maximum Flexibility, Interchangeability And Versatility. JM Style Motor Standard On 3000 Series.
Self-Align Mechanical Seal Features Stainless Steel Construction And Is Positioned By The Impeller.
Back Pullout Design Facilitates Inspection And Maintenance.
Optional Vertical Immersion Configuration (VSMP) Is A True Cantilever Design Without Shaft Bushings Or A Mechanical Seal So It Can Pump Dirty Fluids.
Clamp Type Mounting Plate.
Specifications
Operating Parameters
Flows to 135 m³/hour (600 gpm)
Heads to 70 m (220 ft)
Pressures to 12 bar (175 psi)
Temperatures from -40° C (-40° F) to 120° C (250° F)
Size Range
1000 Series for Very Low Power Services
2000 Series for 0.75 KW to 5.6 KW (1-7.5 hp) Services Requiring High Efficiency
3000 Series for 3.8 KW to 15 KW (5-20 hp) Services Requiring High Flow or High Pressure