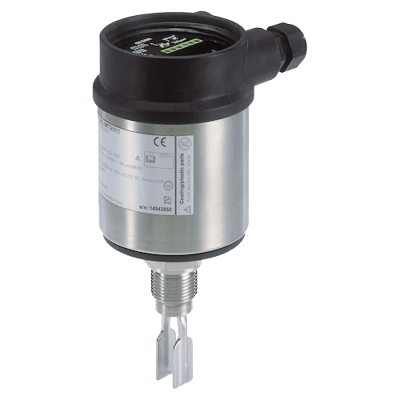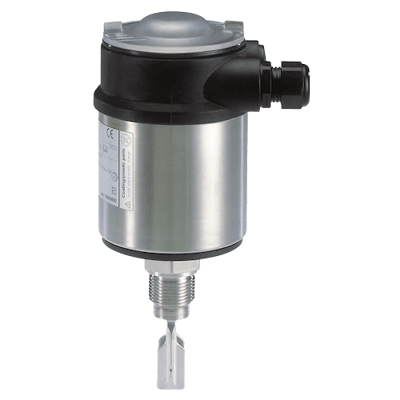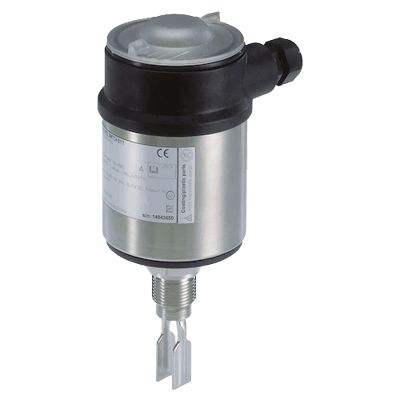 Images are representations only.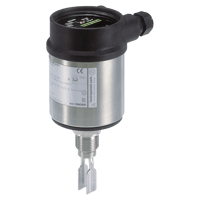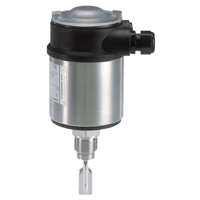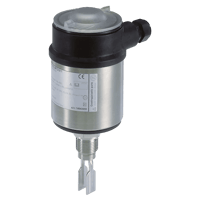 The 8111 is a vibrating level switch for liquids, using a tuning fork for level detection. It is designed for industrial use in areas of process technology and can be used in liquids. Typical applications are overfill or dry run protection.

Depending on the version it is also used for monitoring or control of levels in hazardous environments, even for combustible liquids, gases, fogs or vapours.

Due to the simple and rugged measuring system, the 8111 is virtually unaffected by the chemical and physical features of the liquid. It works even under unfavourable conditions such as turbulence, air bubbles, foam generation, buildup or varying products.
Features
For universal use as overfill or dry run protection system
Setup without adjustment
For food and beverage industry thanks to surface finishing < 0.8 µm
ATEX approvals
Specifications
Ambient Temperature Range
Conformity Specification: -40° to 85° C (-40° to 185° F)
Operating: -40° to 70° C (-40° to 158° F)
Storage: -40° to 80° C (-40° to 176° F)
Applications
Chemical Industry - Solvents, Reactors
Food Processing Industry
Water/Sewage Water Plants
Approvals & Certifications
Approvals & Certifications
ATEX: EN 50014, EN 50020, EN 50284
CE
EMC EN 61326
Ex ia IIC T6
NAMUR: IEC 60947-5-6 (EN 50227)
PTB
Class
Protection: Class I (Relay Output)
Protection: Class II (NAMUR Output)
Consumption
Current (Falling Characteristic - Blade Covered, Rising Characteristic - Blade Uncovered, Fault Signal): ≤ 1 mA - NAMUR Output
Current (Falling Characteristic - Blade Uncovered, Rising Characteristic - Blade Covered): ≥ 2.2 mA - NAMUR Output
Power (AC): 1-8 VA - Relay Output
Power (DC): Approximately 1.3 W - Relay Output
Delay Time
Approximately 500 milliseconds
When Immersed: 0.5 seconds - Relay Output
When Laid Bare: 1 second - Relay Output
Density Range
0.5 to 2.5 g/cm³ (DIP Switch)
0.7 to 2.5 g/cm³
Electrical Connectors
1 or 2 Cable Glands M20x1.5
Electrical Rating
1 A at 253 Vdc, 50 W, Max.
10 µA at 10 mV Min. - Relay Output
5 A at 253 Vac, 1,250 VA, Max.
Short Circuit Rating: 103 mA
Enclosure, Body Material
316L Stainless Steel, 1.4404
PBT (Polybutylene Terephthalate)
Flange Material
ECTFE (Ethylene Chlorotrifluoroethylene)
Enamel
Hastelloy C-4
PFA
Hysteresis
Approximately 2 mm (0.08") with Vertical Installation
Length
Extension Tube Length: 200 to 1,000 mm
NPT Connection
1" NPT Male
3/4" NPT Male
Power Supply
20-253 Vac at 50/60 Hz - Relay Output
20-72 Vdc - Relay Output
Conformity Specification: 20 V
NAMUR Input: 8.2 Vdc
Open-Circuit Voltage: 8.2 V - NAMUR Output
Short-Circuit Current: Approximately 8.2 mA - NAMUR Output
Pressure Range
psi: -14.51 to 928.64 (kPa: -100 to 6,400, bar: -1 to 64)
Process Temperature
-50° to 150° C (-58° to 302° F)
Seat / Seal Material
Process Seal: Klingersil C 4400
Switch Type
2 Floating SPDTs
Relay (DPDT)
Temperature Range
-50° to 250° C (-58° to 482° F)
Tri-Clamp Connection
1" Tri-Clamp
1-1/2" Tri-Clamp
2" Tri-Clamp
Viscosity
Dynamic Viscosity: 0.1 to 10,000 MPa-s (with Density 1)
Wetted Materials
Tuning Fork & Process Fitting: 316L Stainless Steel 1.4435
Food and Beverage Industry
Chemical Industry - Solvents, Reactors
Water/Sewage Water Plants