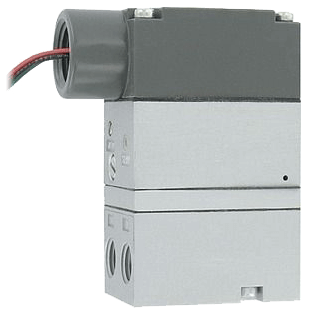 Images are representations only.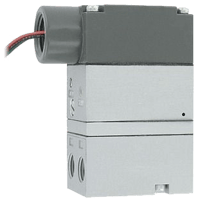 The Series 2700 current to Pressure Transducer combines economical startup cost, low air consumption, and reliable performance to make the 2700 a great investment.

The unit converts a variable current signal to a proportional pneumatic output. It has input and output ports on both the front and back which allows for versatile plumbing. The NEMA 4X enclosure enables the unit to be installed indoors or outdoors, however, the unit is not vibration resistant.

It is FM and CSA approved for intrinsically safe operation.

The 2700 is designed for remote or panel mounting. An integral volume booster provides high flow capacity, increasing control speed in critical applications. Other features include external zero and span adjustments which are convenient for field calibration.

The Series 2800 current to Pressure Transducer utilizes a closed loop pressure feedback system that closely controls output and compensates for vibration, mounting angle, temperature, and supply pressure variations.

These characteristics make this unit ideal for field mounting on a valve. The control mechanism is a piezoceramic actuator encapsulated in a protective skin, which provides a constant defense against humidity and contaminants. These features make this unit ideal for use in demanding applications.

The 2800 also comes in a NEMA 4X enclosure and is field reversible. It is FM and CSA approved intrinsically safe, as well. For ease of installation, this model has input and output ports on both the front and back and can be easily panel mounted.
Features
NEMA 4X enclosure
FM and CSA approved for intrinsically safe
Vibration and position insensitive (2700)
Input and output ports on front and back (2700)
Vibration and position insensitive (2800)
Input and output ports on front and back (2800)
Specifications
Air Consumption
0.025 to 0.03 scfm (0.036 m³/hour) at Midrange Typical
Approvals & Certifications
Enclosure, Body Material
Chromate - Treated Aluminum with Epoxy Paint
Environmental Protection
Class I, Div. 2, Groups A, B, C & D
Class I, II, & III, Div. 1, Groups C, D, E, F, G
Class I, II, & III, Div. 2, Groups A, B, C, D, F, G
Class I, Zone 0, Group IIB
Class II, Div. 2, Groups F & G, Class III
Intrinsically Safe
IP66
NEMA 4X
Flow Capacity
4.5 to 12 scfm (7.56 to 20.52 m³/hour) at psig: 25 to 100 (kPa: 170 to 690, bar: 1.7 to 6.9) - Output Capacity
Hysteresis
< 0.5 % of Span
± 0.1 % of Span
Media
Clean Dry Air Filtered to 40 microns
Oil Free
Mounting
2" (50.8 mm) Pipe Mounting Kit
DIN Rail Mounting
Pipe Mounting Kit
NPT Connection
1/4" NPT Female - Pressure Connection
Operating Temperature
-40° to 71° C (-40° to 160° F)
Output
psig: 3 to 30 (kPa: 20.7 to 206.8, bar: 0.2 to 2.1)
Pressure Range
bar: 0.3 to 6.9
kPa: 34.5 to 700
psig: 5 to 100
Repeatability
< 0.5 % of Span
± 0.1 % of Span
Sensitivity
< 0.1 % of Span Per psig: 1 (kPa: 100, bar: 0.1) - Supply Pressure Sensitivity
Storage Temperature
-40° to 93° C (-40° to 200° F)
Supply Pressure
psig: 5 to 100 (kPa: 34.47 to 689.5, bar: 0.3 to 6.9) - Air Supply
Temperature Range
-29° to 66° C (-20° to 150° F)
Controlling valve actuators, pneumatic valve positioners, air cylinders, clutches, brakes, dampers, louvers and pumps