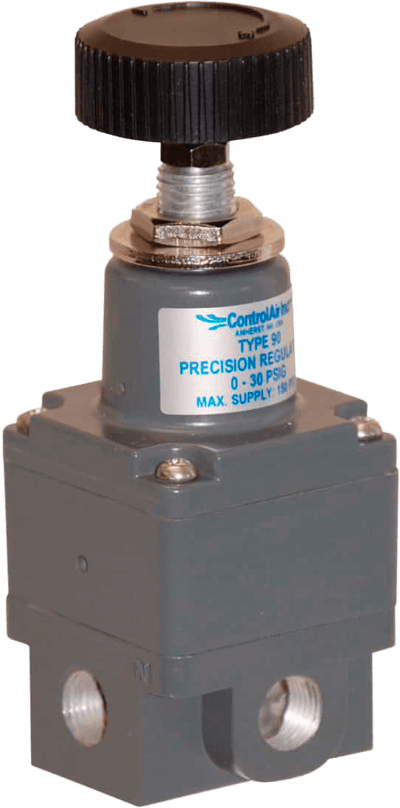 Images are representations only.
Type 90 Miniature Precision Air Pressure Regulator
Brand:
ControlAir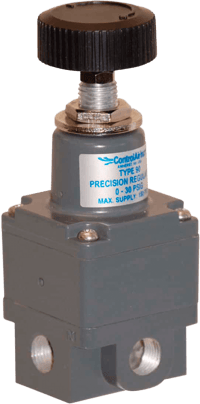 Compact, lightweight, precise regulation.

This pressure regulator provides the highest level of regulation accuracy and repeatability available in a compact, lightweight housing. A force balanced pilot control maintains output pressure to within 0.05 psig (3.44 millibar) with minimal drift over time.

The Type 90 is ideal for applications that require exact pressure control and substantial flow capacity under variable operating conditions and limited space.
Features
High resolution adjustment of set pressure
Precision Control Highly accurate air pressure regulation in a small package
Pressure ranges up to 120 psig (8 BAR)
Compact & Lightweight
Available in NPT and BSP porting
Two gauge ports and reversible bracket allow front or back mounting
Specifications
Output Range
0.7-30 psig (0.05-2 bar)
1.4-120 psig (0.1-8 bar)
1.4-60 psig (0.1-4 bar)
Supply Pressure Sensitivity
0.5 psig (.034 bar) for a 100 psig (6.9 bar) change
Air Consumption
6.0 scfh Max. at 150 psig (170 NL/hr Max. at 10 bar Supply)
Ambient Temperature Limits
0° to +160° F '(-18° to 71° C)