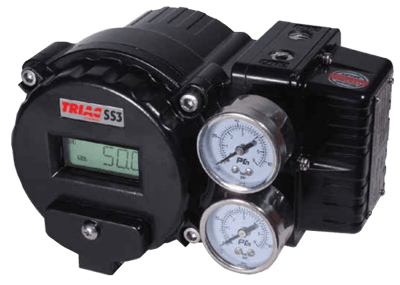 Images are representations only.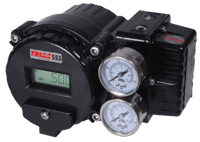 Sturdy explosion-proof housing and smart performance with innovative and ever-strong coil drive even under harsh working environments.
Features
Flameproof IECEx / ATEX / KC Ex d IIC T6
Easy and Quick Auto-calibration
Detecting RA - Reverse Acting or DA - Direct-Acting Automatically Regardless of Wrong Air Connections
Available to Use for Single or Double Acting without Any Special Adjustments
Compact Design Allowing to be Installed on Small Actuators
Providing Error Messages Against Performance Failures
Possible to Test the Actuator with Any Fixed Signal Under a Test Mode
Programmable Characteristic Curve with 17 Points
Wide Operating Temperature Range -30° to 75° C / -22° F to 167° F
Improved Control of High-friction Globe and Ball Valves by Eliminating Overshoot and Hunting
Low Air Consumption
Providing a Mounting Bracket to Meet IEC 60534-6-1 for Linear Valves
Supporting a NAMUR Mounting Pattern IEC 60534-6-2 (VDI/VDE 3845) and Providing a Multi-size Mounting Bracket for Rotary Valves
Specifications
Actuator Type
Direct-Acting - Valve
Double-Acting
Reveres Action - Valve Action
Spring Return
Air Consumption
0.1 scfm (0.17 Nm³/hour) (2.8 L/minute) at psig: 20 to 90 (kPa: 137.9 to 620.5, bar: 1.379 to 6.205) - Supply Pressure
Air Flow Capacity
2.8 scfm (4.8 Nm³/hour) (80 L/minute) at psig: 20 (kPa: 137.9, bar: 1.379) Supply Pressure
8.2 scfm (14 Nm³/hour) (233 L/minute) at psig: 20 (kPa: 137.9, bar: 1.379) Supply Pressure
Air Supply
psi: 20 to 100 (kPa: 140 to 700, bar: 1.4 to 7), Filtered, Compressed Dry & Non-oiled to Meet Class 3 of ISO 8573-1
Ambient Temperature Range
-30° to 85° C (-22° to 185° F) - Micro Switches
Approvals & Certifications
ATEX Eex D IIC T6
Ex
IEC 60534-6-1, 60534-6-2
IEC Ex d IIC T6
ISO 8573-1
KC Ex d IIC T6
Communication
FOUNDATION Fieldbus
HART Communication Polling Address (0 to 15)
PROFIBUS
Current
3.6 mA Min.
30 mA DC - Output Current Limit for Position Transmitter
50 mA - Max.
Electrical Connectors
1/2" NPT: Connection Threads (Pneumatic - Electrical)
1/4" NPT: Connection Threads (Pneumatic - Electrical)
G 1/2": Connection Threads (Pneumatic - Electrical)
M20 x 1.5: Connection Threads (Pneumatic - Electrical)
1/4" BSPT: Connection Threads (Pneumatic - Electrical)
Electrical Rating
10.1 A at 250 Vac - Micro Switches
Linearity
< ± 0.3 % of Full Scale
± 0.5 % of Full Scale - Position Transmitter
Operating Temperature
-30° to 75° C (-22° to 167° F)
-30° to 80° C (-22° to 176° F) - Position Transmitter
Output
4-20 mA, 2-Wire - Position Transmitter
Output Pressure
0 to 100 % of Supply Air Pressure
Power Supply
12-30 Vdc - Position Transmitter
Pressure Range
psi: 150 (kPa: 1,000, bar: 10) - for Guage Block
psi: 90 (kPa: 620.5, bar: 6.205) - for Gauge Block
Range
0 to 10 % of Position Signal - Shut-Off Value
Rotation
25 to 120° - Rotary Typical: Angle
Span & Zero Adjustments
0 to 100 % - Span Adjustment
0 to 99 % - Zero Adjustment
Voltage Drop
8.7 Vdc (435 ohms at 20 mA) - without HART
9.4 Vdc (470 ohms at 20 mA) - with HART