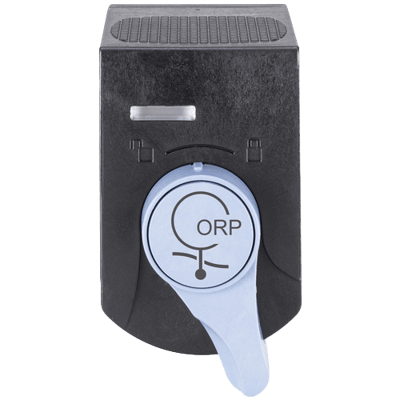 Images are representations only.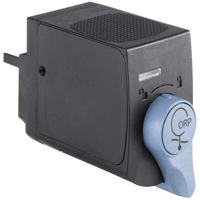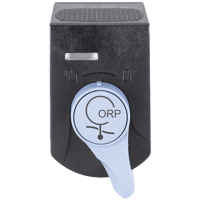 The device is an ORP measurement sensor. It is used within the Online Analysis System Type 8905 by being plugged into a spare fluidic backplane slot. ORP value is one of the most important water parameters - it is an indicator for the activity of the disinfectant, with no measure of the applied dose but with measure of the remaining residual.

The ORP measurement sensor cube contains a Pt electrode and an Ag/AgCl reference system.

The electrical and fluidic connections are made via the connection panel of the system. The sensor cube is communicating via buS, so the recognition at the Online Analysis System is fully automatic. When plugging into a system you will find the sensor in the list of buS members for further customized adjustments.
Features
Fully compatible with buS systems and a wide range of further analysis sensor cubes
Modular sensor cube for hot swap (exchange during operation)
Minimal sample water flow needed
Specifications
Ambient Temperature Range
Operating: 0° to 40° C (32° to 104° F)
Storage: -10° to 60° C (14° to 140° F) without the Reference Electrode
Storage: 3° to 40° C (37° to 104° F) with the Reference Electrode
Approvals & Certifications
CE
EMC: EN 61000-6-3, EN 61000-6-2
UL
Enclosure, Body Material
Polyphenylene Ether (PPE)
Polystyrene (PS)
Humidity
< 90 % Relative Humidity, without Condensation
Indication
LED (According to NAMUR NE 107)
Materials of Construction
Lever: Polycarbonate (PC)
Measuring Error
Measurement Deviation: ± 10 mV
Plug Material
Polystyrene (PS)
PPE (Polyphenylene Ether)
Pressure Range
Sample Water - psi: 0 to 43.51 (kPa: 0 to 300, bar: 0 to 3)
Process Temperature
Sample Water: 3° to 40° C (37° to 104° F)
Sensor, Probe Type
2-Electrode System (Platinum Electrode & Ag / AgCl 3-mol KCl / l Reference Electrode)