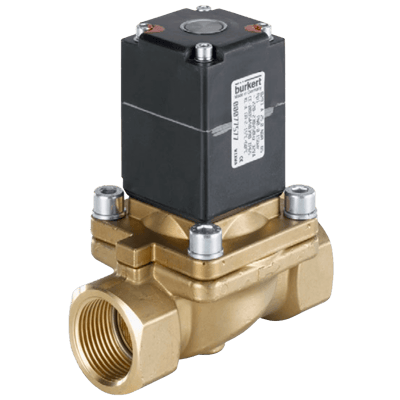 Images are representations only.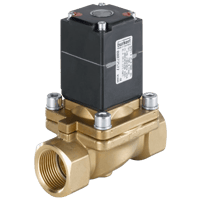 Type 293 switches without pressure change from zero bar. The direct acting solenoid feed valve is delivered with circuit function A.

It is normally closed. Upon switching the magnetic core is tightened against the spring and the valve opens.

A filter is built-in to the inlet. The valve is especially good for switching low pressure combustible gases.
Features
Direct acting (normally closed) Solenoid Valve
Vibration resistant screw block coil construction
Seal and diaphragm according to DIN EN 549
Integrated filter
Specifications
Ambient Temperature Range
-15° to 60° C (5° to 140° F)
Approvals & Certifications
Fulfilled Standards: DIN EN 161
Approvals & Certifications
BSP Connection
G 1" Female
G 3/4" Female
Consumption
Power Consumption (AC): 100-120 VA (Inrush)
Power Consumption (AC): 16 W (Hold)
Power Consumption (AC): 25 VA (Hold)
Power Consumption (UC): 1.7-9 W (Hold)
Power Consumption (UC): 100 W (Inrush)
Cycling Rate
AC: 100 to 150 cycles/minute
UC: 10 to 15 cycles/minute
Electrical Connectors
Cable Plug for Ø 7 mm Cable
Flow Rate
Water: 5 to 10 Kv (m³/hour)
Materials of Construction
Inner Part Valve: 316Ti Stainless Steel, 1.4542
Inner Part Valve: 430FR Stainless Steel (1.4105)
Mounting Position
Preferably with Actuator Upright
Orifice Size
0.787" to 0.984" (20 to 25 mm)
Pressure Range
psi: 0 to 2.176 (kPa: 0 to 15, Mbar: 0 to 150)
Process Temperature
NBR: -15° to 60° C (5° to 140° F)
Response Time
Closing: 120 to 150 milliseconds (Pressure Relief 100 to 10 %)
Opening: 130 to 250 milliseconds (Pressure Rise 0 to 90 %)
Seat / Seal Material
Seal: NBR (Medium: Flammable Liquids Such as Gas, Natural Gas, Liquid Petroleum Gas (LPG), Acetylene, Hydrogen)
Tolerance
Voltage Tolerance: ± 10 %