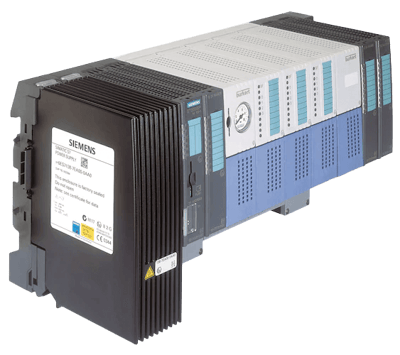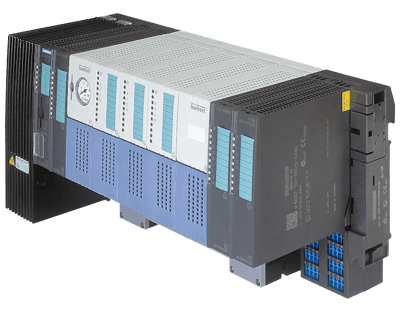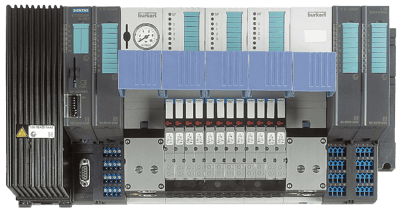 Images are representations only.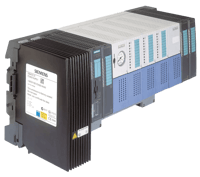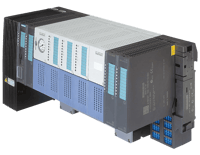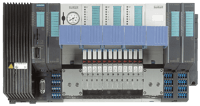 AirLINE Ex Type 8650 is a modular electrical and pneumatic automation system that controls complex processes in hazardous areas (Zone 1 / 21). The protection class "intinsically safe" (Ex-i) of electronic modules and valves allows the change of modules during operation.

With the modules of the co-operation partner Siemens, Burkert offers electrical, Analog and digital I/O functions for use in zone 0. A data set on a SD-Card with serialised data will be delivered as a complete system.
Features
For use in hazardous areas (zone 1/21)
Developed in co-operation with Siemens Automation and Drives
Electrical connection via PROFIBUS DP-is, electrical I/O functions via Siemens SIMATIC ET 200 iSP modules
Compact design / Protection rating IP30
Specifications
Approvals & Certifications
ATEX: Zone 1 & 21
IEC Ex: Zone 1 & 21
BSP Connection
G 1/8" - Supply Slice Left/Right/Middle, Valve Slice 66 mm
G 3/8" - Supply Slice Left/Right/Middle
Class
Protection Class: I According to IEC 60536 - SIMATIC ET 200iSP
Consumption
Power: 2.9 W - Valve Slice 44 mm (For 2 x 3/2-Way Valves: 3.6 W), Valve Slice 66 mm
Duty Cycle
100 % ED (Continuous Operation)
Electrical Connectors
At the Valve: RM 2.54 mm Rectangular Plug - Valve Typical 6524/6525
Plug-In Connection - Valve Slice 44 mm (Valves with 11 mm Per Station - D6, D1/4"), Valve Slice 66 mm (Valves with 16.5 mm Per Station - D8)
With the Valve: RM 5.08 mm Rectangular Plug - Valve Typical 6526/6527
Enclosure, Body Material
PBT - Supply Slice Left/Right/Middle, Valve Slice 44 mm & 66 mm
Polyamide (PA) - Supply Slice Left/Right/Middle, Valve Slice 44 mm & 66 mm, Valve Typical 6524/6525/6526/6527
Polycarbonate (PC) - Supply Slice Left/Right/Middle, Valve Slice 44 mm & 66 mm
Environmental Protection
Intrinsically Safe (Ex-i)
IP30 - SIMATIC ET 200iSP
Flow Rate
QNn Value Air: 300 L/minute - Valve Typical 6524/6525
QNn Value Air: 700 L/minute - Valve Typical 6526/6527
Materials of Construction
Pneumatic: PBT - Supply Slice Left/Right/Middle, Valve Slice 44 mm & 66 mm
Pneumatic: Polyamide (PA) - Supply Slice Left/Right/Middle, Valve Slice 44 mm & 66 mm
Pneumatic: Polycarbonate (PC) - Supply Slice Left/Right/Middle, Valve Slice 44 mm & 66 mm
Media
Lubricated Dry Compressed Air - Supply Slice Left/Right/Middle, Valve Typical 6524/6525/6526/6527
Neutral Gases (5 μm-Filter Recommended) - Supply Slice Left/Right/Middle, Valve Typical 6524/6525/6526/6527
Non-Lubricated Dry Compressed Air - Supply Slice Left/Right/Middle, Valve Typical 6524/6525/6526/6527
Mounting
On S7 Profile Rail from Siemens
With 2 Screws M2 x 20 - Valve Typical 6524/6525
With 2 Screws M3 x 30 - Valve Typical 6526/6527
NPT Connection
1/8" NPT - Supply Slice Left/Right/Middle, Valve Slice 66 mm
3/8" NPT - Supply Slice Left / Right / Middle
Operating Temperature
0° to 55° C (32° to 131° F) (Horizontal Installation)
-20° to 70° C (-4° to 158° F) - SIMATIC ET 200iSP
Operating Voltages
24 Vdc Alternative 120/230 Vac - SIMATIC ET 200iSP
Orifice Size
4 mm - Valve Typical 6524/6525
6 mm - Valve Typical 6526 / 6527
Override
Manual Override - Valve Typical 6524/6525/6526/6527
Power
Rated Power: 0.3 W - Valve Typical 6524/6525/6526/6527
Pressure Range
bar: 1 to 8
kPa: 100 to 800
psi: 14.5 to 116
Response Time
Closing: 20 milliseconds - Valve Typical 6524/6525
Closing: 90 milliseconds - Valve Typical 6526 / 6527
Opening: 15 milliseconds - Valve Typical 6524/6525
Opening: 80 milliseconds - Valve Typical 6526/6527
Seat / Seal Material
Seal: NBR - Valve Typical 6524/6525/6526/6527
Storage Temperature
-40° to 70° C (-40° to 158° F) - SIMATIC ET 200iSP