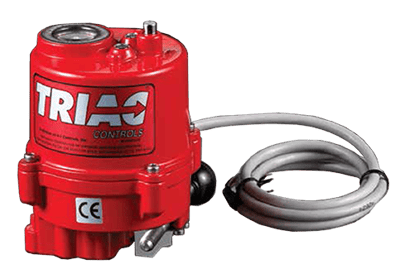 Images are representations only.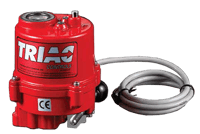 The WE-350 Electric Actuator is specifically designed to operate small size ball valves: 1" and less, dampers and other quarter-turn devices.
Features
Compact and Light Weight 
High Resistance to Corrosion Due to Hard Anodizing on Inside and Outside with Polyester Powder Coating on External Surface 
Multi-voltage: 85-265 VAC/1PH, 24 VDC
Standard Space Heater - 0.5 W
Weatherproof - IP67
Push Button and Manual Lever 
Wide, Easy Mounting Base Standard to ISO 5211: F03/F04/F05
Standard Four Limit Switches - 2 Aux Limit Switches 
Captive Cover Bolts 
Mechanical Position Indicator and LED Lamp Indicators: Open/Close
Specifications
Ambient Temperature Range
-20° to 70° C (-4° to 158° F)
Approvals & Certifications
American Water Works Association (AWWA) C540-93
CSA
Duty Cycle
1800 Start/Hour at Full Load at 70° C (158° F)
Electrical Connectors
Long Wire Typical (10p), Standard Wire Length: 47-1/4", PG11 Cable Plug
Electrical Rating
16 A at 1/2 hp 125/250 Vac, 0.6 A at 125 Vdc, 0.3 A at 250 Vdc
Enclosure Finish
Anodizing Treatment Before Dry Powder, Polyester
Environmental Protection
Type 4
Type 4X
Type 6
Weather Proof IP67
Heater
7-10 W Anti-Condensation Space Heater
Humidity
90 % Relative Humidity, Max.
Indication
Continuous Position Indicator
Materials of Construction
AI Bronze
Aluminum Alloy
Polycarbonate
Steel
Motor Type
Class F Reversible Induction Motor
Motor Voltages
24 Vdc
85-265 Vac / 1-Phase
Operation
120°
180°
270°
Push Button & Manual Lever
Options
1,000 ohm Potentiometer
10,000 ohm Potentiometer
-40° C (-40° F) Low Temp Kit
4-20 mA Transmitter
5,000 ohm Potentiometer
Override
Manual Override: Declutching Mechanism
Stopper
Mechanical: Open/Close (External Adjustable Screws)
Switch Quantity
Standard Four Limit Switches - (2) Auxilliary Limit Switches
Torque
WE-350: 354 In/Lbs, WE-350HS: 270 In/Lbs
Vibration
XYZ 10 G, 0.2~34 Hz, 30 minutes