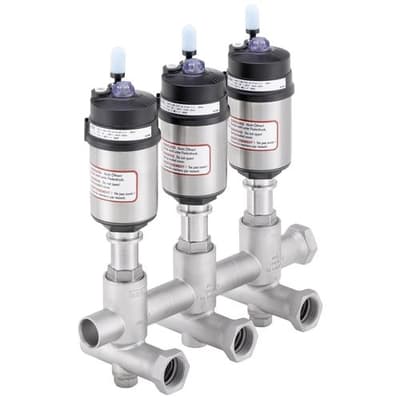 Images are representations only.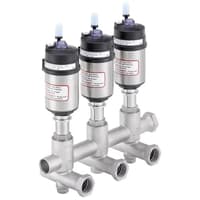 Type 8840 comes with ready to install modules of tried and tested Bürkert process valves. The valve cluster, based on a modular valve body, allows different configurations. The individual parts are joined hermetically tight and in a very compact way.

No installation effort for pipework, fittings or sealings is needed. For the sizes DN20 (3/4") and DN25 (1") orbital welding is used. The smaller variants in DN10 are threaded together using trusted graphite seals.

To avoid dangerous water hammer, all valves have the flow direction below the seat. This is made possible by the two variants for the fluidic main function distribution and collecting, mixing or feed.

Depending on the requirement and preferred type of automation, it is possible to choose from different actuator variants. The robust CLASSIC actuators (in stainless steel or plastic) are controlled by a central valve island or by a pilot valve.

The proven ELEMENT actuators allow a simple decentralized automation by using intelligent control heads Furthermore it is possible to expand the system by using continuous control valves, sensors, customer specific pipework or further accessories.
Features
Valve cluster ready for installation
Compact design without any potential leakage
No assembly effort
No piping between the valves needed
Trusted actuators for simple automation
Specifications
Body Material
Cast 316L Stainless Steel (CF3M)
Material of Construction
Actuator: Stainless Steel, PA, PPS
Spindle Packing: PTFE Seal with Sspring Compensation
Media
Water, Alcohols, Oils, Fuels, Hydraulic Fluid, Saline Solutions, Alkalis, Organic Solvents, Vapour
Certifications & Approvals