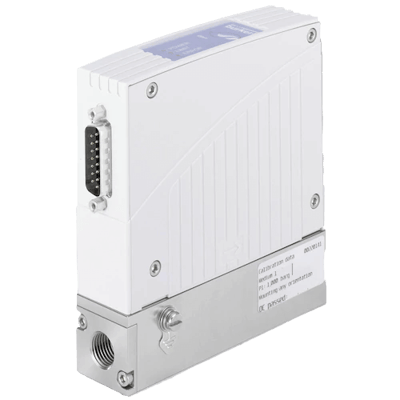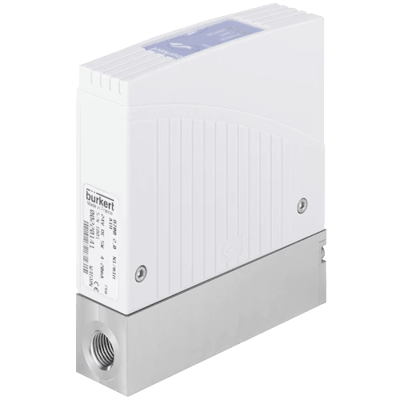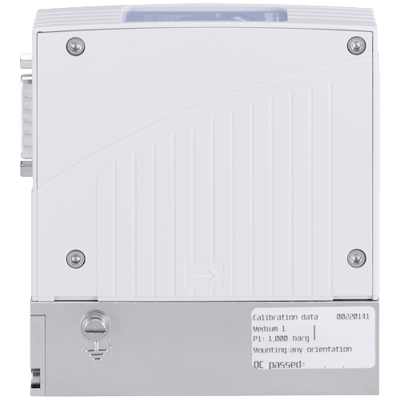 Images are representations only.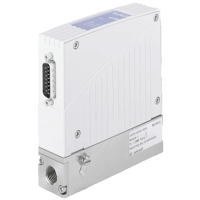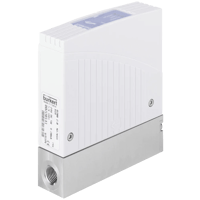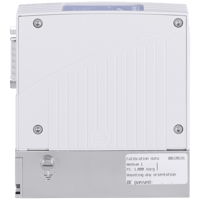 Mass flow meters are used in process technology for the direct measurement of the mass flow of gases. In case of volumetric flow meters, it is necessary to measure the temperature and the pressure either the density, because gases change their density or rather their volume depending on the pressure.

The measurement of the mass flow, on the other hand, is independent of the pressure and the temperature. The digital mass flow meter Type 8700 uses a classic bypass sensor. The actual flow is given as an Analog output signal or could be read out over RS-communication, also fi eldbus devices are available.

Type 8700 can optionally be calibrated for two different gases, the user is able to switch between these two gases.

The materials of the parts that come into contact with the medium are selected according to customer specifi cation so that the unit can be operated with the complete range of standard process gases. The MassFlowCommunicator software can be used for parameterisation and diagnosis.
Specifications
Accuracy
After 30 minutes Warm-Up Time: ± 0.3 % of Full Scale
After 30 minutes Warm-Up Time: ± 1.5 % of Reading
Ambient Temperature Range
-10° to 50° C (14° to 122° F)
Applications
Analytical Instruments
Environmental Technology
Laboratories
Test Bench Equipment
Approvals & Certifications
Communication
DeviceNet Bus
Digital
FOUNDATION Fieldbus, CANopen
Modbus RTU
PROFIBUS DP
RS-232
RS-422
RS-485
USB
Consumption
Power Consumption: 2.5 W
Power Consumption: 5 W (with Fieldbus)
Electrical Connectors
D-Sub 15-Pin Plug Connector
PROFIBUS-DP, DeviceNet & CANopen: Socket M12 Plug, 5-Pin
Electrical Contacts
Normally Closed
Normally Open
Enclosure, Body Material
Metal
Plastic
Polycarbonate
Stainless Steel
Flow Rate
Full Scale Ranges: 5 to 15,000 mL/min
Indication
LED Indication for Power, Communication, Limit & Error
Output
0-10 V
0-20 mA
0-5 V
4-20 mA
Maximum
Process Temperature
-10° to 60° C (14° to 140° F) for Oxygen
-10° to 70° C (14° to 158° F)
Relay Output
One Relay Output: 1 A at 25 V, 25 VA
Seat / Seal Material
Seal: EPDM
Seal: FFKM
Seal: FKM
Typical application areas are gas flow measurement in:

Test benches
Environmental technology
Laboratories
Analytical equipment