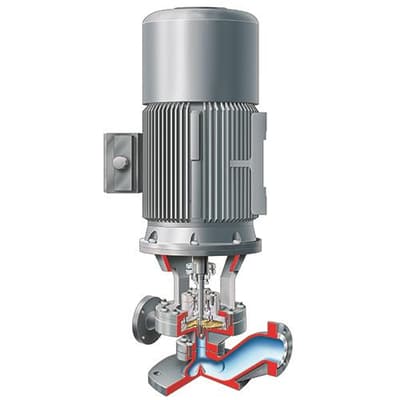 Images are representations only.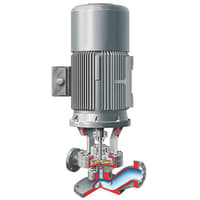 Closely following API 610 OH4, latest edition design criteria, the MSP is a vertical, in-line, single or double stage pump.

Featuring a medium-speed induction motor, the MSP delivers peak efficiency, excellent economy, simplified installation and reduced maintenance in low-flow, high head applications.
Features
The Medium Speed Pump (MSP) Is A Variable Speed, Rigidly Coupled Vertical Inline Pump.
It Is Available In Single Stage Or In A Two Stage Opposed Impeller Design.
The Hydraulics Are Specially Designed For Low Flow High Head Applications.
A Medium Speed Induction Motor Provides A Speed Range From 2000 Rpm Up To 8000 Rpm
The Design Of The Pump Follows API 610 / 13709, Type OH4.
Energy Saving Technology - Pump Operates Always Closed To BEP, No Throttle Or Bypass Valve Required As Pump Speed Is Controlled By Using A Frequency Converter.
No Bear Box - No Lubrication System.
Pump Is Ready For Different Operating Conditions And A Simple Adjustment Of The Pump Speed Meets Future Service Conditions.
Several Optional Control Features Are Available, No Motor Starter Required, Torque Control When Pump Starts Automatically.
Specifications
Operating Parameters
Flows from 2 m³/hour (8.8 gpm) to 35 m³/hour (150 gpm)
Heads to 600 m (1970 ft) Single Stage Design, 900 m (2955 ft) 2-stage Design
Operating Speeds from 2000 rpm to 8000 rpm
Pressures to 64 bar (930 psi) for Stainless Steel, to 96 bar (1400 psi) for CS, C6, D1, D2
Temperatures from -46° C (51° F) to 250° C (482° F)
Size Range
2 Designs (Single Stage, Double Stage) 5 Driver Sizes, 3 Different 18 Straight Vane Impeller Designs (A, B & C Hydraulic)