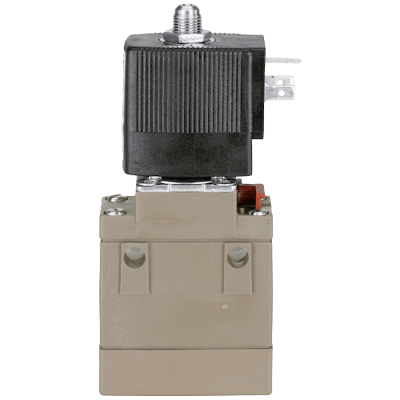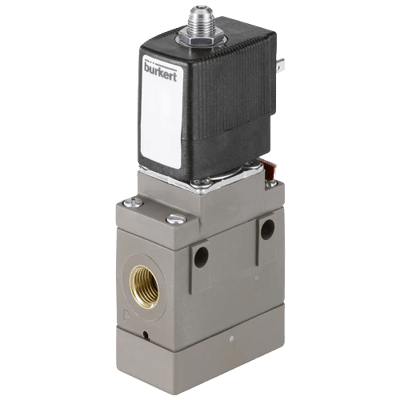 Images are representations only.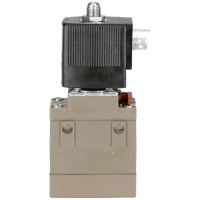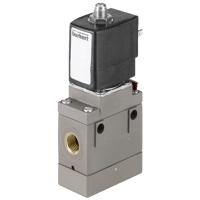 Type 5411 is a pilot operated 3/2-way solenoid valve with manual override as standard.

The housing includes servo piston seals with the seat seal. Through pilot channels is the servo piston is either loaded with input pressure or released.

To switch a minimum pressure difference of psi: 14.5 (kPa: 100, bar: 1) is required. The vent port is integrated as a sintered bronze silencer directly in the valve housing.

The valves can be combined (up to 6 valves) on a single-channel manifold with common pressure supply.
Features
Robust servo-assisted piston valve
Service friendly manual override
Single or block assembly
Explosion-proof versions
Specifications
Ambient Temperature Range
55° C (131° F) - Max.
Block Mounting: -30° to 50° C (-22° to 122° F) - ATEX/IECEx Version
Single Mounting: -30° to 60° C (-22° to 140° F) - ATEX/IECEx Version
Approvals & Certifications
ATEX - PTB 14 2023 x (with Moulded Cable: II 2 G Ex Mb IIC T5 Gb, II 2D Ex Mb IIIC T 100° C Db), EPS 16 1046 x (with Junction Box: II 2 G EX Eb Mb IIC T5 Gb, II 2D EX Mb Tb IIIC T100° C Db)
CE
IEC Ex - PTB 14.0049 x (with Moulded Cable: II 2 G Ex Mb IIC T5 Gb, II 2D Ex Mb IIIC T 100° C Db), EPS 16.0021 x (with Junction Box: II 2 G EX Eb Mb IIC T5 Gb, II 2D EX Mb Tb IIIC T100° C Db)
ISO 8573-1: 2010, Class 7.4.4
BSP Connection
G 1/4" Female
G 1/8" Male
Consumption
Power Consumption (Version with Vac Voltage): 11 VA (Inrush)
Power Consumption (Version with Vac Voltage): 6 VA (Hold)
Power Consumption (Version with Vdc Voltage): 2 W
Electrical Connectors
3 metres Cable, Moulded - ATEX/IECEx Version
Junction Box (without Fuse), Moulded - ATEX/IECEx Version
M20 x 1.5 - ATEX/IECEx Version with Junction Box
Tag Connectors According to DIN 43650 (Previously DIN 43650) Form A for Cable Plug Typical 2508
Enclosure, Body Material
Polyamide (Reinforced) with Moulded-in Brass Threads
Flow Rate
QNn-Value Air: 900 L/minute
Materials of Construction
Coil: Epoxy
Coil: Polyamide
Moulded-in Thread: Brass
Poppet: Plastic
Silencer: Sintered Bronze
Stopper, Magnet Core: 430FR Stainless Steel
Media
Lubricated Compressed Air
Neutral Medium
Non-Lubricated Compressed Air
Mounting Position
Preferably with Solenoid System Upright
Operating Voltages
24 Vdc
24-230 V at 50/60 Hz
24-230 VUC - ATEX/IECEx Version
Pressure Range
psi: 14.5 to 145 (kPa: 100 to 1,000, bar: 1 to 10)
Process Temperature
-10° to 60° C (14° to 140° F)
Response Time
Closing: 30 milliseconds (Pressure Drop 100 to 10 %)
Opening: 50 milliseconds (Pressure Rise 0 to 90 %)