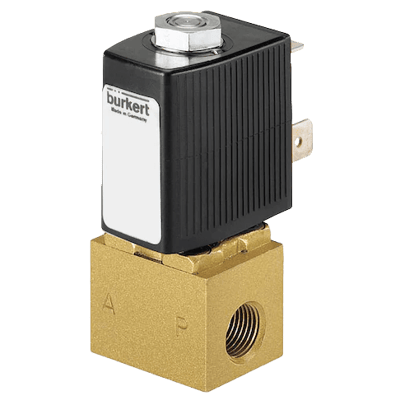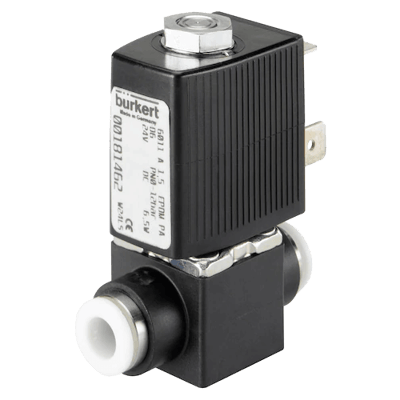 Images are representations only.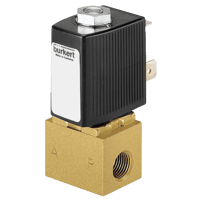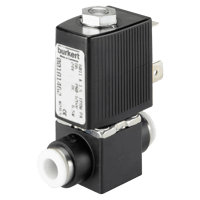 Valve 6011 is a direct-acting plunger valve. The stopper and plunger guide tube are welded together to enhance pressure resistance and leak-tightness. Various seal material combinations are available depending on the application.

A Bürkert-specific flange design (SFB) enables space-saving arrangement of valves on a manifold. Push-in fittings can be selected for flexible hose connection. The coils are moulded with polyamide.

In combination with a plug in accordance with DIN EN 175301-803 Form B or C, the valves satisfy protection class IP65.
Features
Direct-acting and compact small-format valve with diameter of up to DN 2.4
Vibration-proof, bolted coil system
Simple and quick flange or manifold installation
Quick coupling (push-in fitting) for plug-in hose connections
Specifications
Ambient Temperature Range
BSP Connection
G 1/2" Female
G 1/8" Female
Consumption
Power Consumption (Inrush AC): 9 VA
Power Consumption DC (Hot/Cold Coil): 4/5.5 W
Power Consumption Hold AC (Hot Coil): 4 W
Power Consumption Hold AC (Hot Coil): 6 VA
Duty Cycle
Duty Cycle / Single Valve: 100 % Continuous Rating Intermittent Operation 60 % (30 Minute) or with 2 W Coil
Electrical Connectors
DIN EN 175301-803 Form C for Cable Plug Typical 2516
Form B (Industrial Standard) for Typical 2507
Enclosure, Body Material
303 Stainless Steel, 1.4305
Brass
Polyamide (PA) - Model 6011 A
Environmental Protection
IP65 with Cable Plug
Vibration-Proof
Flow Rate
Water: 0.045 to 0.13 Kv (m³/hour)
Materials of Construction
Coil DIN EN 175301-803 Form C: Polyamide (PA)
Coil Form B (Industrial Standard): Epoxy
Core, Stopper: 430FR Stainless Steel (1.4105)
Guide Tube: 305 Stainless Steel, 1.4303
Media
Neutral/Aggressive Media that Do Not Attack the Body & Seal Materials
Neutral Gases & Fluids (Example: Compressed Air, Water Hydraulic Oil)
Technical Vacuum
Mounting Position
Preferably with Actuator Upright
Nut & Bolt Material
Locknut: Steel (9SMnPb28K), Thick-Film Passivated
Operating Voltages
110 V / 50 Hz - Model 6011
230 V / 50 Hz
24 V / 50 Hz - Model 6011
24 Vdc
Orifice Size
0.047" to 0.094" (1.2 to 2.4 mm)
Pressure Range
AC - psi: 0 to 304.6 (kPa: 0 to 2,100, bar: 0 to 21)
DC - psi: 0 to 174 (kPa: 0 to 1,200, bar: 0 to 12)
Process Temperature
-10° to 100° C (14° to 212° F)
Response Time
Closing: 7 to 15 milliseconds (Pressure Relief 100 to 10 %)
Opening: 7 to 12 milliseconds (Pressure Build-Up 0 to 90 %)
Ring Material
Shading Ring: Copper
Shading Ring: Silver
Spring Material
301 Stainless Steel, 1.4310
Tolerance
Voltage Tolerance: ± 10 %