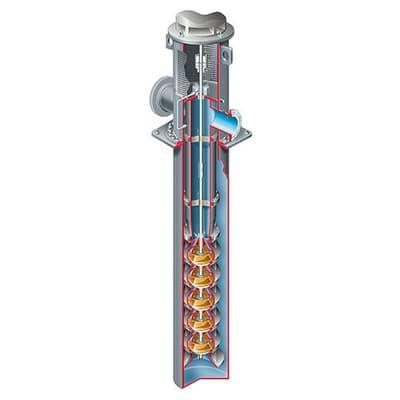 Images are representations only.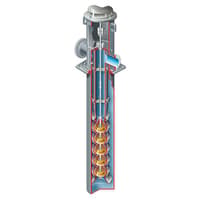 The VPC vertical turbine, double casing pump is a diffuser type, single or multistage design for services with limited NPSH available.
Features
Solid Shaft Motor Includes Thrust Bearing To Withstand The Total Hydraulic Thrust As Well As The Rotor Weight.
Rigid, Adjustable Flanged Coupling Provides The Proper Impeller Clearance Adjustment.
Bowls Are Designed With Multiple Diffuser Vanes And Flanged Construction.
Bowl Bearings On Either Side Of The Impeller Provide Rigid Shaft Support.
Enclosed Or Semi-Open Impellers Are Cast To Provide Smooth Passageways For More Efficient Fluid Flow.
Suction Bell Is Designed To Provide Efficient Fluid Flow Into The Eye Of The First Stage Impeller.
Specifications
Configurations
Canned Booster
NSF61-G Certified
Short Coupled
Operating Parameters
Flows to 13600 m³/hour (60000 gpm)
Heads to 1070 m (3500 ft)
Pressures to 100 bar (1450 psi)
Temperatures from -45° C (-50° F) to 230° C (450° F)
Size Range
Sizes from 150 mm (6") to 1375 mm (55")