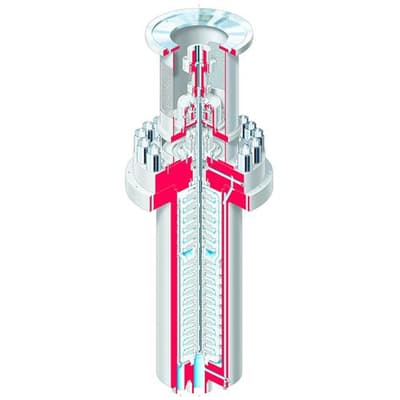 Images are representations only.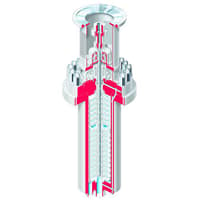 This ASME Section lll, Class 2 and 3 pump is designed for chemical and volume control system charge service with boiling water reactors (BWR), pressurized water reactors (PWR), and pressurized heavy-water reactors (PHWR).
Features
Suction and Discharge Connections Meet AREVA Piping Requirements.
Outer Casing Is Designed For Full Working Pressure And Meets All Pressure Boundary Requirements For Pump Equipment.
Inner Assembly Has An Internal Crossover That Reduces Hydraulic Thrust And Increases Bearing Life.
Standard Cartridge Seal Reduces Maintenance Time And Man-Rem Exposure Associated With Change Out
Optional Bearing Housing Mounted In The Motor Stand Permits The Use Of Standard Electric Motors Without Thrust Bearings.
Four-Piece Spacer Coupling Allows Maintenance To Bearings And Mechanical Seal Without Removal Of The Electric Motor.
Specifications
Configurations
Vertical Multistage Barrel
Operating Parameters
Flows to 60 m³/hour (265 gpm)
Heads to 2000 m (6560 ft)
Pressures to 235 bar (3410 psi)
Speeds to 3600 rpm
Temperatures to 100° C (212° F)