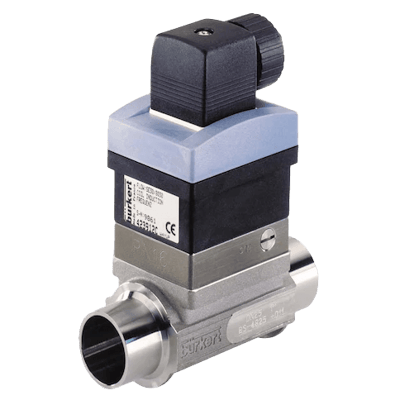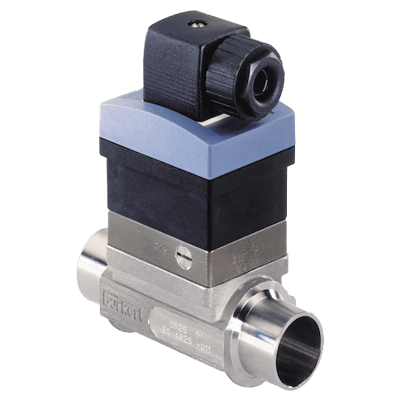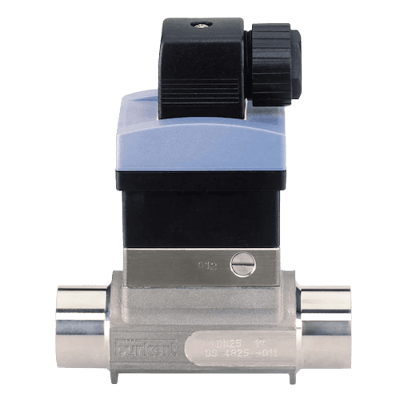 Images are representations only.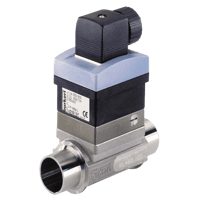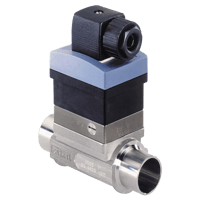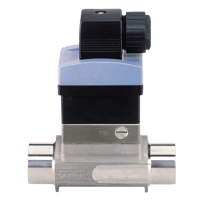 The paddle wheel flowmeter for continuous flow measurement is especially designed for use in neutral, slightly aggressive, solid free liquids.

The flowmeter is made up of a compact fitting (S030) and an electronic module (SE30) quickly and easily connected together by a QuarterTurn. The Burkert designed fitting system ensures simple installation of the devices into all pipes from DN06 to DN65.

The flowmeter produces a frequency signal, proportional to the flow rate, which can easily be transmitted and processed by a Burkert transmitter/controller.
Features
Economic integration in pipe systems without any additional piping
3-wire frequency pulse version to directly interface with PLC's (both PNP and NPN)
Connection to Burkert devices in remote versions
Specifications
Ambient Temperature Range
Operating & Storage: -15° to 60° C (5° to 140° F)
Approvals & Certifications
EN ISO 5167-1
EMC EN 61000-6-2, 61000-6-3
PED 97/23/CE
Consumption
Current (Hall "Low Power" Version): ≤ 0.8 mA
Current (Hall Version): ≤ 30 mA
Diameter
Pipe: 1/4 to 2-1/2" (DN06 to DN 65)
Electrical Connectors
1.5 mm², Max.
Cable Plug EN 175301-803
Shielded Cable
Humidity
≤ 80 % Relative Humidity, Non-Condensing
Materials of Construction
Male Fixed Connector: Polycarbonate (PC)
Measuring Error
Standard K-factor: ± 2.5 % of Reading
Teach-In: ± 1 % of Reading
Operating Voltages
12-36 Vdc Filtered & Regulated
Output
Hall "Low Power" Version: 10 mA - Max.
Hall Version (NPN): 0.2-36 Vdc
Hall Version: 100 mA - Max.
Pipe Connection
DN 15 Pipe
DN 20 Pipe
DN 25 Pipe
DN 32 Pipe
DN 40 Pipe
DN 50 Pipe
DN 65 Pipe
Plug Material
Cable Plug: Polyamide (PA)
Pressure Range
bar: 0 to 16
kPa: 0 to 1,600
psi: 0 to 232.16
Process Temperature
PP: 0° to 80° C (32° to 176° F)
PVC: 0° to 50° C (32° to 122° F)
Stainless Steel, Brass, PVDF: -15° to 100° C (5° to 212° F)
Reverse Polarity Protection
Seat / Seal Material
Seal: EPDM
Seal: FKM
Seal: NBR
Switch Type
Hall Version (NPN & PNP), Hall "Low Power" Version (NPN): Transistor
Tri-Clamp Connection
DN 15 Tri-Clamp
DN 20 Tri-Clamp
DN 25 Tri-Clamp
DN 32 Tri-Clamp
DN 40 Tri-Clamp
DN 50 Tri-Clamp
DN 65 Tri-Clamp
Voltage
Dielectric Strengh: 2,300 Vac
Welded Connection
DN 15 Weld End
DN 20 Weld End
DN 25 Weld End
DN 32 Weld End
DN 40 Weld End
DN 50 Weld End
DN 65 Weld End
Wetted Materials
Axis: Ceramics
Fitting, Sensor Armature, Paddle Wheel: PVDF
Fitting, Sensor Armature: 316L Stainless Steel, 1.4404
Fitting, Sensor Armature: Brass
Fitting, Sensor Armature: Polypropylene (PP)
Fitting, Sensor Armature: PVC