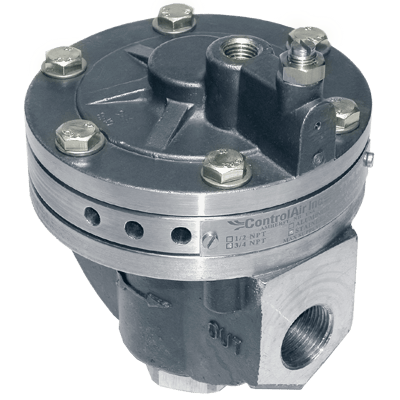 Images are representations only.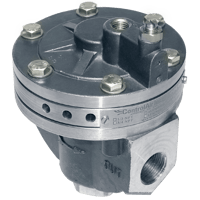 The Type 6000 Volume Booster is a one-to-one signal to output relay that, when used with a positioner/actuator, is designed to increase the stroking speed of control valves.

An integral bypass valve allows you to tailor the output force to meet the application requirements. Large signal changes to the booster can deliver high volume, fast action throttling control while smaller signal changes are dampened.

When used with on/off control valves, the bypass can be closed for increased stroking speed.
Features
Fast Response


Delivers high air volume for rapid actuator stroking 

Adjustable Bypass Valve


Tunes unit response to eliminate actuator overshoot or overdamping 

Soft Seat Sealing


Provides tight shutoff to reduce costly air consumption 

Corrosion and Wear Resistant Construction


Stainless steel external trim and internal wear parts 

Available in Aluminum or Stainless Steel 
Choice of Porting


1/2" or 3/4" NPT supply and output ports 

Supply Pressure (Maximum): 150 psig, 10.3 bar, 1034 kPa 
Ambient Temperature:


 Standard:-40° to +71°C (-40° to 160°F) 
EPDM Elastomer: -40° to 110°C (-40° to 230°F) 
Silicone Elastomer: -51° to 110°C (-60° to 230°F) 

Port Size: 1/2", 1/4", 3/4" 
Port Threads: NPT 
Materials of Construction:


Body & Housing: Aluminum, 316 Stainless Steel 
Diaphragms: Nitrile and Nylon, EPDM, Silicone 
Bonnet: Aluminum, 316 Stainless Steel
Specifications
Bonnet Material
316 Stainless Steel
Aluminum
Enclosure, Body Material
316 Stainless Steel
Aluminum
NPT Connection
1/2" NPT Female
3/4" NPT Female
Operating Temperature
-40° to 110° C (-40° to 230° F)
-40° to 71° C (-40° to 160° F)
-51° to 110° C (-60° to 230° F)
Supply Pressure - Maximum
bar: 10
kPa: 1,000
psig: 150