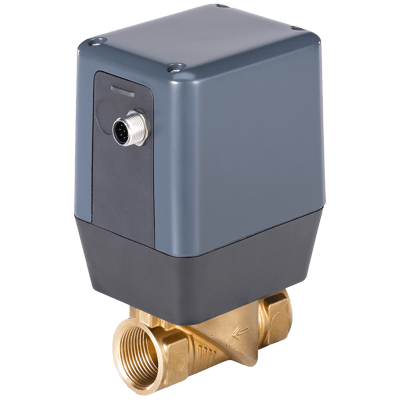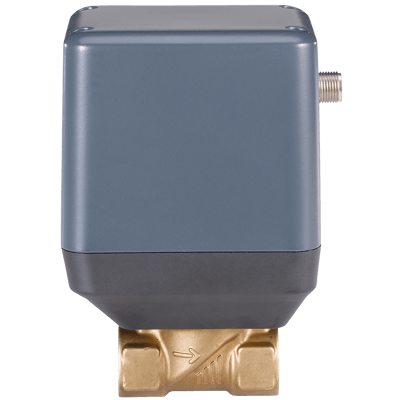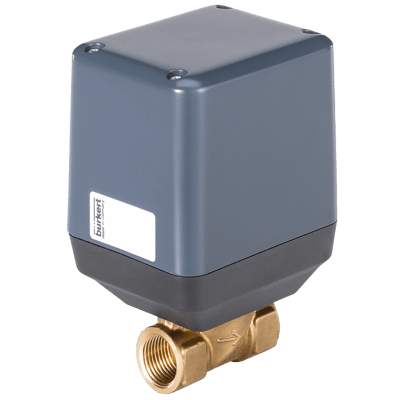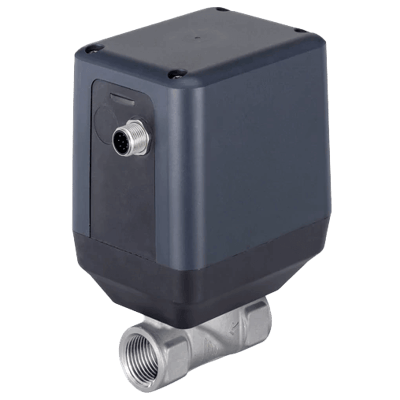 Images are representations only.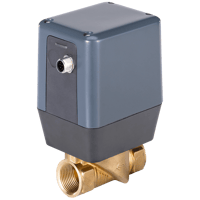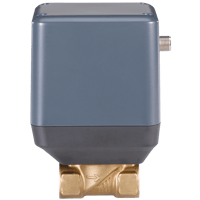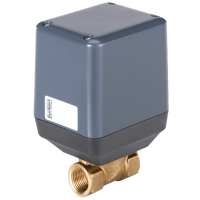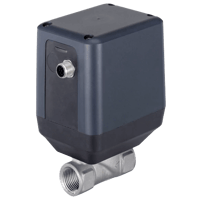 Type 3275 is a direct-acting and general-purpose motor valve for shut-off, used as regulating unit in control loops. A stepper motor as actuator drives the valve which is incorporated in a compact and robust housing.

The integrated electronics simplify the process integration; additional actuation modules are not necessary.

The drive shaft shifts a very smooth ceramic disc over a second fixed ceramic disc. The fixed ceramic disc is simultaneously the valve seat. By turning the ceramic disc the valve opens. The seat tightness is achieved by the very smooth surface of the stacked ceramic discs.

In case of power failure the actual valve position will be kept. Therefore, this valve is not suitable as safety shut-off valve. If a specific safety position in case of power failure is required, this can be realized by using an external buffer module.

The motor's power consumption in opened or closed position is nearly zero. This key feature can reduce the energy consumption of a plant dramatically and thus make it more efficient.
Specifications
Ambient Temperature Range
-10° to 60° C (14° to 140° F)
BSP Connection
G 1" Female
G 1/2" Female
G 3/4" Female
Consumption
Power: 1 W (Holding Position)
Power: 12 W, Max.
Cover Material
Fluid: Polyphenylene Sulfide (PPS)
Disc Material
Control, Fixed Seat: Ceramic
Duty Cycle
100 % Duty Cycle (Depending on Fluid & Ambient Temperature)
Electrical Connectors
M12 Connector, 8-Pin, Male
Enclosure, Body Material
Fluid: Brass
Fluid: Stainless Steel
Valve: Polycarbonate (PC)
Valve: Polyphenylene Sulfide (PPS)
Flow Rate
1.8 to 9.6 m³/hour (Kvs) - Water
Input
0-5 V (Log 0, Valve Closed)
10-30 V (Log 1, Valve Open)
Mounting Position
Preferably with Actuator Upright
Nominal Pressure
psig: 87 (kPa: 600, bar: 6)
NPT Connection
1" NPT Female
1/2" NPT Female
3/4" NPT Female
Orifice Size
0.31" to 0.98" (8 to 25 mm)
Output
Load Capacity: 100 mA - Max.
Load Capacity: 10-30 V
Pressure Range
psi: 0 to 90 (kPa: 0 to 600, bar: 0 to 6) - Overpressure with Respect to Atmospheric Pressure
Process Temperature
Fluid Temperature: 0° to 70° C (32° to 158° F)
Shaft Material
Actuator: Stainless Steel
Shaft Seal Material
Actuator: FKM
Actuator: NBR