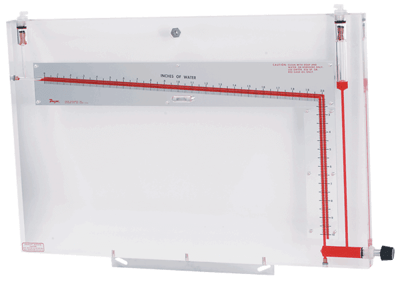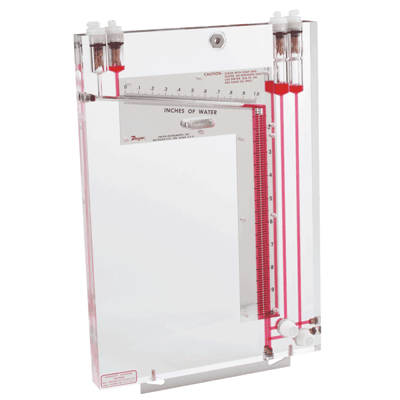 Images are representations only.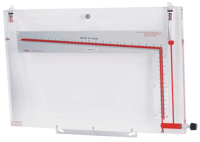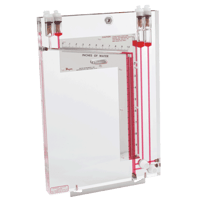 Dwyer SERIES 424/420 Inclined-Vertical Manometer are extremely accurate instruments designed and made especially for precision measurement of low differential pressures in laboratory and test applications.

The Inclined Range Bore has a length of 20" to provide ample multiplication of indicating fluid movement in this critical lower part of the range.
Features
1-1/4" THICK ACRYLIC PLASTIC BODY is a solid block, virtually unbreakable, stable and absolutely free of the danger of distortion.
3/16" BORES, ACCURATE TO ±0.0002" are permanently free of bends or crooks, will not require recalibration because of distortion.
Ground Glass Bubble Level sensitive to 115-125 sec./2 MM. is 1-1/2" long x 0.375" diameter and provided with two red lines for easy visibility and alignment.
Parallax-free reading for maximum accuracy and consistency is achieved by simply aligning the meniscus with its image reflected in the polished aluminum scale.
Selected gage fluid with high wetability characteristics forms a consistent, well shaped meniscus for perfect readability.
O-RING SEALED FLUID LEVEL PLUNGER ADJUSTMENT for easy zeroing.
Precision built to assure device meets the highest standards.
Specifications
Length
Scale: 10-1/8"
Scale: 20"
Scale: 4-5/8"
Scale: 6-1/2"
Scale: 9"
Low pressure laboratory and test applications