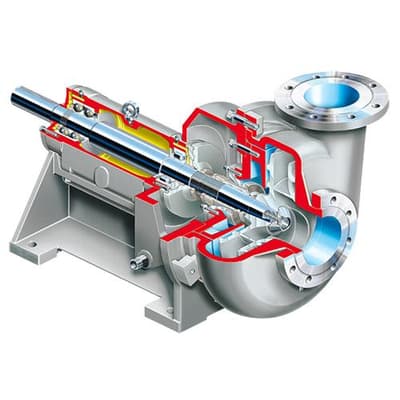 Images are representations only.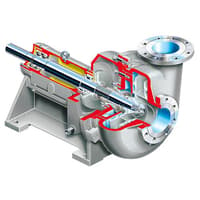 The LC chemical slurry pump is a horizontal, frame mounted, single stage, end suction design with a tangential discharge nozzle.

It is engineered to withstand the rigor of applications that are both abrasive and corrosive.
Features
Concentric Casing With Tangential Discharge.
Rigid, One-Piece Bearing Frame With Two Angular Contact Outboard Bearings And Roller Inboard Bearings.
Large Diameter, Heavy-Duty Shaft.
Choice Of Shaft Sealing Options – Wet Gland Packing – Single Or Double Mechanical Seal – High-Pressure Double Mechanical Seal – Special High Solids Seals – Alumina Industry Seal.
Choice Of Materials Of Construction.
Multiple Impeller Designs.
Direct-Coupled Or Belt-Driven.
Choice Of Six Drive Arrangements.
Options – Inducer – Stuffing Box Cooling System.
Specifications
LC-S
Lineshaft, Chemical Slurry Sump
Operating Parameters
Flows to 8000 m³/hour (35200 gpm)
Heads to 90 m (300 ft)
Pressures to 25 bar (360 psi)
Specific Gravities to 1.7
Temperatures to 140° C (285° F)
PL-C
Cantilever, Chemical Slurry Sump
Size Range
Discharge Sizes from 50 mm (2") to 450 mm (18")