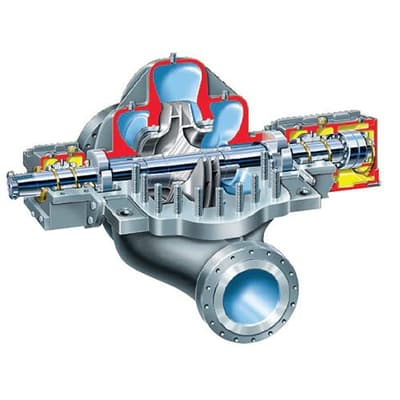 Images are representations only.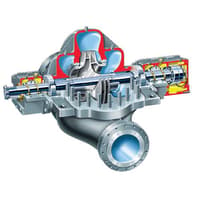 The DVSH is a between bearings, axially split, single stage pump designed for continuous service in heavy duty pipeline services.

With over 100 distinct hydraulics, the DVSH provides unsurpassed coverage for high efficiency, reliable operation with thousands of units installed worldwide.
Features
Double Volute, Axially Split Casing Design Minimizes Hydraulic Radial Forces In Any Condition Down To The Minimum Flow.
Suction And Discharge Nozzles Are Integrally Cast In The Lower Casing Half To Permit Pump Disassembly Without Disturbing The Piping.
Near Centerline Mounting Provides Superior Pump Alignment And Performance At Elevated Temperatures.
Double Suction Impeller Provides Hydraulic Axial Balance And Allows Minimal NPSHr. ISO 21049/API 682 Seal Chambers Ensure Ample Flow Around The Seal Faces And Accommodate Numerous Seal Designs.
Heavy-Duty Shaft Design Ensures Trouble-Free Operation Below The First Critical Speed.
Standard Renewable Casing and Impeller Wear Rings Provide Hydraulic Stability And High Operating Efficiency.
Specifications
Operating Parameters
Flows to 12000 m³/hour (52835 gpm)
Heads to 565 m (1854 ft)
Pressures to 150 bar (2175 psi)
Speeds to 6000 rpm
Temperatures to 200° C (400° F)
Size Range
Sizes from 150 mm (6") to 750 mm (30")