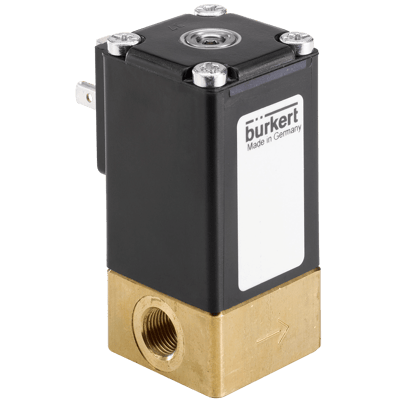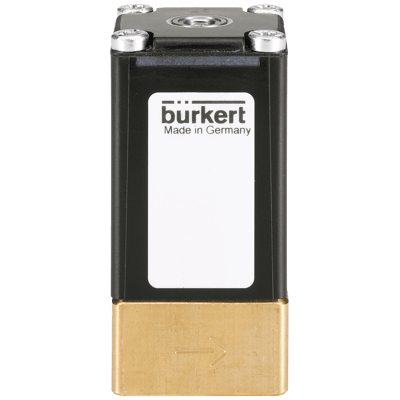 Images are representations only.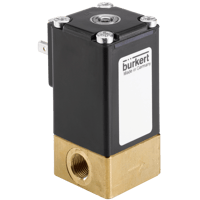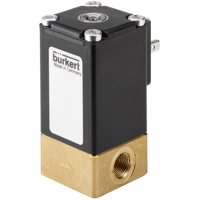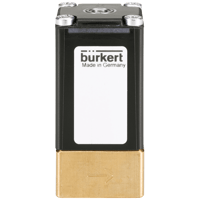 Type 2863 is an extremely compact solenoid control valve and is available with an orifice up to 4 mm. It is based on the standard version of Type 2873. It is used as an actuator in closed control loops (pressure, flow, temperature, etc.).

Compared with the standard version, the valve is essentially of simpler construction and assembly and testing procedures are optimized, easing high volume series production with shorter delivery times.

Valve control takes place through a PWM signal. The duty cycle of the PWM signal determines the coil current and hence the position of the plunger.

The Burkert control electronics Type 8605 converts an Analog signal to a reference value corresponding to the valve type PWM signal and provides additional functions such as temperature compensation (coil heating), ramp function and the adjustment of minimum and maximum duty cycle/coil current for the control range.
Features
Made for custom engineered applications
DN 0.03" to 0.15" (0.8 to 4 mm)
1/8", 1/4" sub-base or custom engineered armature 
Specifications
Ambient Temperature Range
Approvals & Certifications
ATEX - II 2 G EEx M II T4 & T5
IECEx - Ex Mb E IIC T4, T5 Gb
BSP Connection
G 1/4" Female
G 1/8" Female
Current
4-20 mA (At 24 V Hold) - Max.
Duty Cycle
100 % Duty Cycle Continuous Rating
Flow Rate
19 to 345 QNn (L/min)
Water: 0.018 to 0.320 Kvs (m³/hour)
Frequency
PWM Control Frequency: 400 Hz
Mounting Position
Preferably with Actuator Upright
Nominal Pressure
psi: 0 to 232 (kPa: 0 to 1,600, bar: 0 to 16)
NPT Connection
1/4" NPT Female
1/8" NPT Female
Orifice Size
0.03" to 0.15" (0.8 to 4 mm)
Pressure Range
psi: 0 to 232.1 (kPa: 0 to 1,600, bar: 0 to 16)
Process Temperature
-10° to 90° C (14° to 194° F)