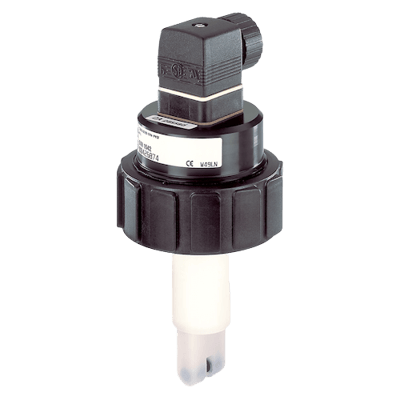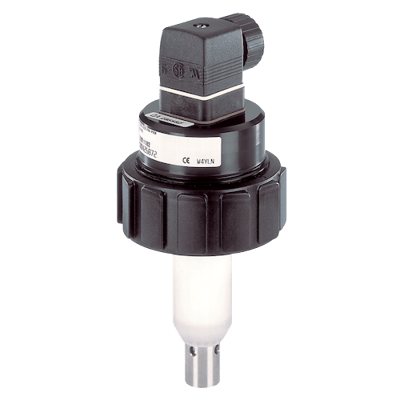 Images are representations only.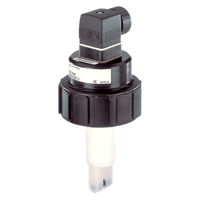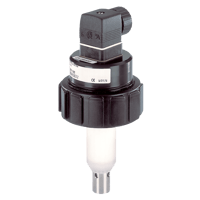 The conductivity sensor is a compact probe with integrated conductivity electrodes. Four conductivity probes having different cell constants are available and offer a large measurement range.

The Pt1000 for automatic temperature compensation is integrated in the sensor housing. The sensor transmits directly a raw signal and is fitted with a standard EN 175301-803 plug connector.

The sensor has to be connected to the Burkert conductivity transmitter Type 8225 for panel or wall mounting or to the multiCELL transmitter/ controller Type 8619 via a shielded cable (maximal cable length of 10 meters).
Features
Compact version for DN15 to DN200
Large capabilities of conductivity measurement through different cells
Large range of process connections with various fittings
Specifications
Ambient Temperature Range
Operation & Storage: 0° to 60° C (32° to 140° F)
Approvals & Certifications
CE
EU Directives
PED 2014/68/EU
Compensated Temperature
Temperature Measurement: Automatic (Integrated Pt1000) - Reference Temperature 25° C (77° F)
Diameter
Pipe: 0.59 to 7.8" (15 to 200 mm)
Electrical Connectors
4 x 0.2 to 1.5 mm² Shielded
Cable Plug EN 175301-803
Humidity
≤ 80 % Relative Humidity, Non-Condensing
Materials of Construction
Electrode: Stainless Steel for Cell Constant C= 0.01 or 0.1
Graphite for Cell Constant C= 1.0 or 10
Measuring Error
Conductivity Measurement Deviation - Typical: 3 to 5 % of Measured Value
Temperature Measurement Deviation: ± 1° C (1.8° F)
Measuring Range
Conductivity Measurement: 0.05 to 200,000 µS/cm
Pipe Connection
DN 100 Pipe
DN 15 Pipe
DN 20 Pipe
DN 25 Pipe
DN 32 Pipe
DN 40 Pipe
DN 50 Pipe
DN 65 Pipe
DN 80 Pipe
Plug Material
Cable Plug: Polyamide (PA)
Pressure Range
psi: 0 to 145 (kPa: 0 to 1,000, bar: 0 to 10) - Max.
Process Temperature
PP: 0° to 80° C (32° to 176° F)
PVC: 0° to 50° C (32° to 122° F)
PVDF, Stainless Steel, Brass: 0° to 100° C (32° to 212° F)
Resolution
Temperature Measurement: 0.1° C
Sensor, Probe Material
Pt1000: 316Ti Stainless Steel 1.4571
Temperature Range
Measuring Range: -50° to 150° C (-58° to 302° F)
Welded Connection
DN 100 Weld End
DN 125 Weld End
DN 150 Weld End
DN 200 Weld End
DN 50 Weld End
DN 65 Weld End
DN 80 Weld End
Wetted Materials
Fitting, Sensor Holder: PVDF
Fitting: 316L Stainless Steel, 1.4404
Fitting: Brass
Fitting: Polypropylene (PP)
Fitting: PVC