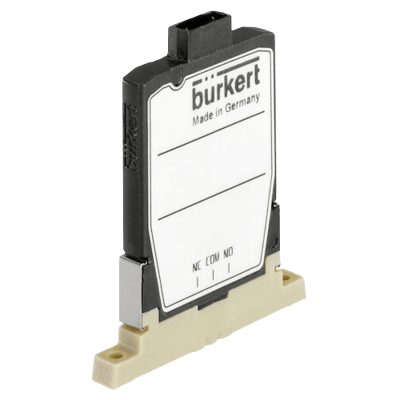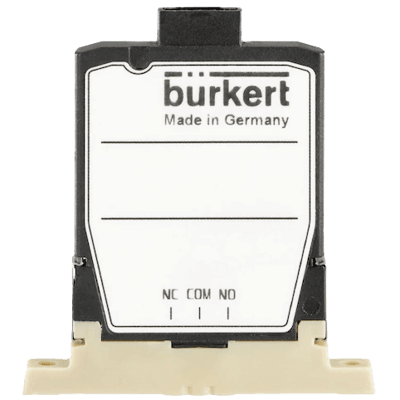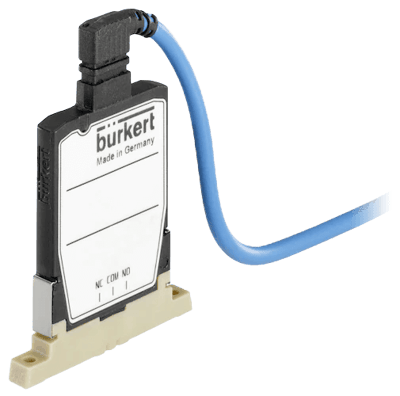 Images are representations only.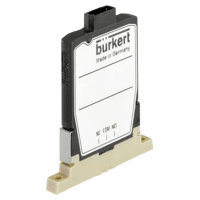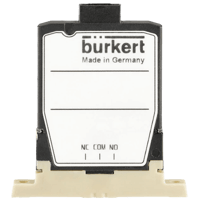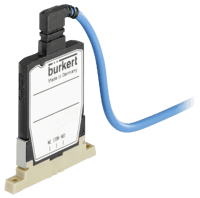 Type 6650 sets a new standard in medium isolation miniature solenoid valves. The optimized design enables reproducible and precise dosing, good rinsing capability and is suitable for the application of aggressive chemicals owing to the high quality ot the materials used.

With the two nominal sizes of 0.4 and 0.8 mm, as well as the selection between 2/2-way and 3/2-way function, it is ideal for applications where the highest fluid performances are required in the smallest space.

Type 6650 opens up new possibilities, owing to the 0.17" (4.5 mm) station width, in particular in connection with dosing in 384-well microtiterplates.
Features
Only 0.17" (4.5 mm) wide
Medium isolation, for aggressive fluids
Direct-acting
Vacuum up to psi: 101.5 (kPa: 700, bar: 7)
Short response times
Specifications
Ambient Temperature Range
10° to 50° C (50° to 122° F)
Approvals & Certifications
Differential Pressure
psi: 0 to 101.5 (kPa: 0 to 700, bar: 0 to 7) - Max.
Duty Cycle
100 % Duty Cycle, Continuous Operation Only with External Power Reduction
Electrical Connectors
Plug Burkert Typical 2504
Flow Rate
Water: 0.004 to 0.010 m³/hour (Kv)
Frequency
Switching: 15 Hz - Continuous with External Power Reduction
Switching: 80 Hz - for Mechanical Limit Observe, Max.
Media
Aggressive Fluids & Gases
Orifice Size
0.015" to 0.031" (0.4 to 0.8 mm)
Power
Nominal Holding: 0.7 W
Nominal: 5.7 W
Pressure Range
Vacuum - psi: -101.5 to -14.5 (kPa: -700 to -100, bar: -7 to -1)
Process Temperature
15° to 50° C (59° to 122° F)
Response Time
< 5 milliseconds (ISO 12238)