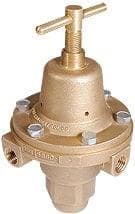 Images are representations only.
Type 3500/3600 High Pressure Regulator
Brand:
ControlAir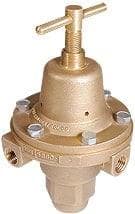 The Type 3500/3600 provides a low cost, dependable regulator to reduce inlet pressures from as high as 6000 psig (413 bar) down to working pressures ranging between 0 and 225 psig (15.5 bar).

This first cut regulator is available in five separate spring ranges. The Type 3500 is of brass construction and the Type 3600 is constructed of 316 Stainless Steel.

These versatile devices can be used as pilot supply where a high-pressure operating valve must be controlled by a gas regulator pilot.

The Type 3500 is designed for use with noncorrosive gases. The Type 3600 is designed to conform to NACE MR-0175.
Features
Choice of Five Output Pressures


0-30 psig (0-2.0 BAR)
0-60 psig (0-4.0 BAR)
0-125 psig (0-8.6 BAR)
0-150 psig (0-10.3 BAR)

Choice of Three Output Ports


Provides plumbing flexibility for easy hookup

Socket Head or Tee Handle Adjustment
Replaceable Nylon Valve Seat
Multi-seat rotating valve block provides up to 4 replacement sealing surfaces
High Maximum Inlet Pressure Up to 6000 psig (413 BAR) inlet pressure
Non-Relieving Design
Economical Cost
Specifications
Vent Size
Type 3500: 3/16" each (4 holes) Type 3600: 1/4" NPT
Output Range
0 to 125 psig (0 to 8.6 bar), 0 to 150 psig (0 to 10 bar), 0 to 225 psig (0 to 15.5 bar), 0 to 30 psig (0 to 2 bar), 0 to 60 psig (0 to 4 bar)
Supply Pressure - Maximum
Temperature Range
Type 3500: -70° to 225° F (-57° to 107° C) Type 3600: -40° to 225° F (-40° to 107° C)
Body, Bonnet, Bottom Plug
3600-316 Stainless Steel
3500-Brass
Diaphragm Material
302 Stainless Steel, Monel 400
Approvals & Certifications
Type 3600 Meets NACE MR-0175 Requirements for Sour Gas Service