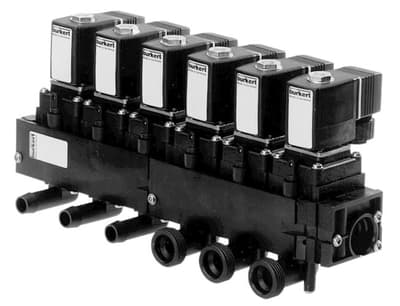 Images are representations only.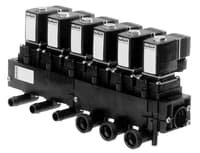 The servo-assisted solenoid valve with servo diaphragm is normally closed (NC). In this condition, pressure builds up above the diaphragm - the valve holds tight. When energized, the space above the servo diaphragm is pressure relieved and lifted up by the medium - the valve opens.

The modular extendable valve system can be built up in all possible combinations with up to 12 valves each as distributor or collector in two sizes with different port connection modules.

The valve can be put together in collecting function or distributing function by easily twisting the valve insert. Any combination of functions in one block is possible.

Additional functions such as temperature indication or flow measurement can be added by integrating a corresponding sensor directly into the valve block. In order to be as flexible as possible, a variety of port connections are available as standard.

The inner thread port connections are at the bottom, pointing down while the outer thread port connections and the plug-on connection for hoses are pointing to the side. The block material is Polyamide glass fiber reinforced. The advantages are: Low weight and a certain chemical resistance.
Features
Push-over solenoid system AC10
Modular valve 2/3/4-fold, hose connection
Body in brass DN1 …DN13
Specifications
Port Connection
G 1/2", G 3/4", G 3/8"
Plug-On Ø 13 mm
Seal Material
NBR
FPM / EPDM on Request
Media
Neutral Liquids, e.g. Water, Hydaulic Oil, Oils and Fat without Additives
Operating Voltage
AC 24, 110, 230 V / 50 Hz
DC 12 & 24 V
Distributing and collecting functions in water / sewage treatment
HEVAC
Hydraulic circuits
Car wash devices
Chemical industry
Machine industry