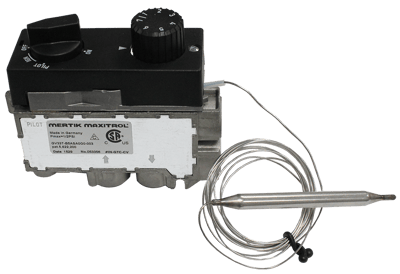 Images are representations only.
AC-G - Safety Shut-Off Valve (With Thermostat, Mertik)
Part Number:
ASV375NT
Brand:
Thermon Cata-Dyne™
THERMON Tamper-Proof Safety Shut-Off Valve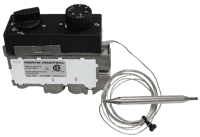 The multi-function valve works in conjunction with a thermocouple to monitor the catalytic reaction in the Cata-Dyne™ heater to ensure it is well established before the fuel supply remains on unattended.

It is also designed to shut off the gas supply to the heater automatically if the thermocouple senses that the catalyst has dropped below the activation temperature. This unit functions as a non-electric combination of a safety shut-off valve and a thermostat control.

ASV375 - Safety Shut-Off Valves

3/8" NPT connections and a maximum inlet pressure of 1/2 psi
Designed with a pilot test port located at the base of the valve that can be used to measure operating pressure
ASV375NT - Safety Shut-Off Valves

The ASV375NT valve includes an additional tamper- resistant design discouraging mechanical attempts to fix the valve open and override it's safety feature
3/8" NPT connections and a maximum inlet pressure of 1/2 psi
Mertik Combination Gas Controls/Valves

Designed as a non-electric combination of the safety shut-off valve and a thermostat control
Includes a tamper-resistant thermocouple connection that cannot be mechanically fixed open
Certifications


Mertik - CSA approved and CE certified
ASV375 and ASV375NT - CSA approved
Features
Easy to use controls in a compact and sleek design
Multi-function valve works in conjunction with a thermocouple to monitor the catalytic reaction
Includes tamper-resistant thermocouple connection
Designed to shut off the gas supply to the heater automatically if the thermocouple senses that the catalyst has dropped below the activation temperature