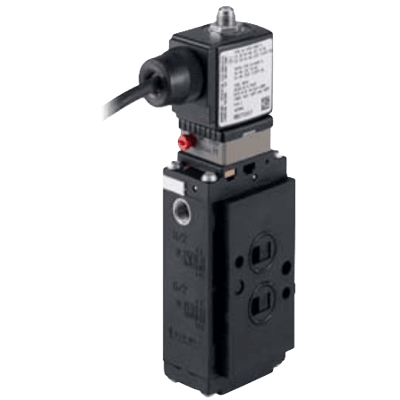 Images are representations only.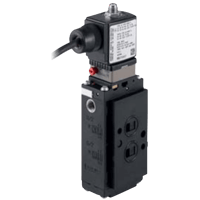 Type 6519 NAMUR Ex m NAMUR valve for process plants switches reliably, even when fully restricted. The valve made out of premium polyamide can be operated either as a 5/2 or a 3/2 way version through different mounting plates.

The solenoid valve Type 6014 with a coil approved for use in hazardous areas is connected as a pilot. The NAMUR flange interface allows easy assembly on different pneumatic actuators on the spot.

The valve bodies are identical with the Type 6519 NAMUR standard version.

The difference between the valves is in the coils, which are laid out and approved in different ways. By changing the coil on the valve body, it is possible to easily convert from Non-Ex operation to Ex operation (or vice versa).

Coil versions with moulded cable are designed to be push-over and can be locked in 4 x 90° displaced positions and be positioned any where in-between.
Specifications
Ambient Temperature Range
-25° to 50° C (-13° to 122° F)
Approvals & Certifications
Coil: IECEx PTB 14.0049 x (II 2 G Ex Mb IIC T5 Gb, II 2D Ex Mb IIIC T 100° C Db), Junction Box: IECEx EPS 16.0021 x (II 2 G EX Eb Mb IIC T5 Gb, II 2D EX Mb Tb IIIC T100° C Db)
Coil: PTB 14-ATEX-2023 x (II 2 G Ex Mb IIC T5 Gb, II 2D Ex Mb IIIC T 100° C Db), Junction Box: EPS16-ATEX-1046 x (II 2 G EX Eb Mb IIC T5 Gb, II 2D EX Mb Tb IIIC T100° C Db)
Compressed Air Quality: ISO 8573-1: 2010, Class 7.4.4
NAMUR
BSP Connection
G 1/4" Female
G 1/8" Male
Duty Cycle
100 % Continuous Operation
Electrical Connectors
3 metres Cable, Moulded
Junction Box (without Fuse)
Enclosure, Body Material
Pilot & Main Valve: Glass Fibre Reinforced
Pilot & Main Valve: Polyamide
Flow Rate
QNn Value Luft: 900 L/minute
Materials of Construction
Socket Material: Nickel-Plated
Threaded Socket Material: Brass
Threaded Socket Material: Stainless Steel
Media
Lubricated Compressed Air
Neutral Medium
Non-Lubricated Compressed Air
Mounting Position
Preferably with Actuator Upright
Pressure Range
psi: 29 to 116 (kPa: 200 to 800, bar: 2 to 8)
Process Temperature
-10° to 50° C (14° to 122° F)
Response Time
Closing: 40 milliseconds (Pressure Drop 100 to 10 %)
Opening: 20 milliseconds (Pressure Rise 0 to 90 %)
Seat / Seal Material
Seal: NBR
Seal: Polyurethane (PUR)