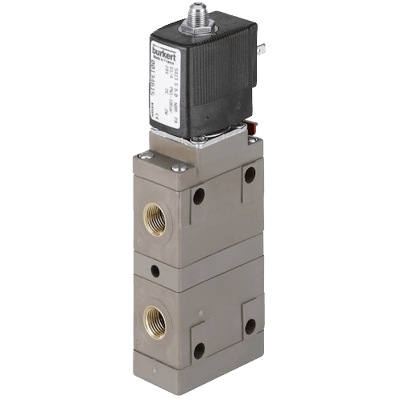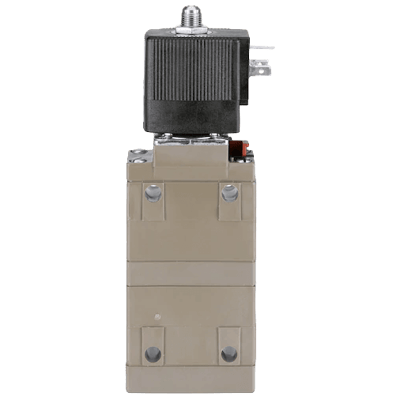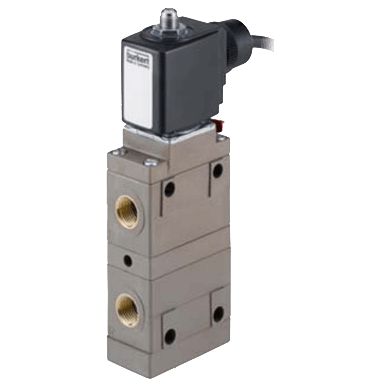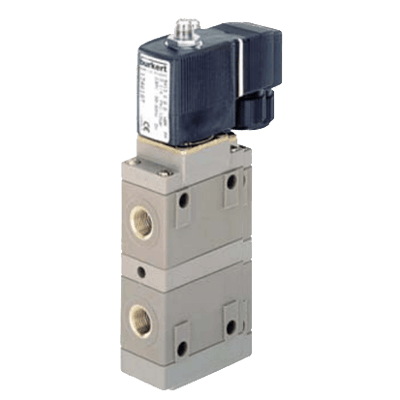 Images are representations only.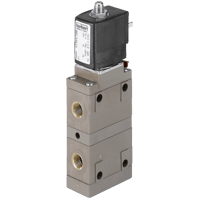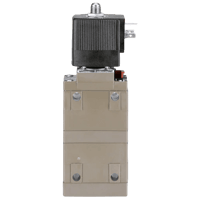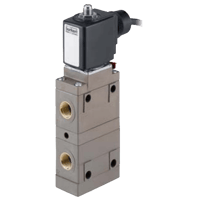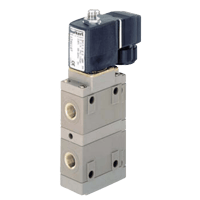 Type 5413 is a pilot operated 4/2-way solenoid valve with manual override as standard. A 3/2 way solenoid pilot valve allows control.

The valve consists basically of two assembled 3/2-way valves for ports A and B with a counter built-in servo piston with seat seals.

Through pilot channels, the servo piston is operated at the inlet pressure and pushed either apart or towards the valve centre.
Features
Robust servo-assisted piston valve
Service friendly manual override
Single or block assembly
Explosion-proof versions
Specifications
Ambient Temperature Range
55° C (131° F) - Max.
Block Mounting: -30° to 50° C (-22° to 122° F) - ATEX/IECEx Version
Single Mounting: -30° to 60° C (-22° to 140° F) - ATEX/IECEx Version
Approvals & Certifications
Air Pressure Quality: ISO 8573-1: 2010, Class 7.4.4
CE
With Moulded Cable: IECEx PTB 14.0049 x (II 2 G Ex Mb IIC T5 Gb, II 2D Ex Mb IIIC T 100° C Db), with Junction Box: IECEx EPS 16.0021 x (II 2 G EX Eb Mb IIC T5 Gb, II 2D EX Mb Tb IIIC T100° C Db)
With Moulded Cable: PTB 14-ATEX-2023 x (II 2 G Ex Mb IIC T5 Gb, II 2D Ex Mb IIIC T 100° C Db), with Junction Box: EPS 16-ATEX-1046 x (II 2 G EX Eb Mb IIC T5 Gb, II 2D EX Mb Tb IIIC T100° C Db)
BSP Connection
G 1/4" Female
G 1/8" Male
Consumption
Power Consumption (Version with Vac): 11 VA (Inrush)
Power Consumption (Version with Vac): 6 VA (Hold)
Power Consumption (Version with Vdc): 2 W
Power: 3 W - ATEX/IECEx Version (NBR Seal & Moulded Cable)
Power: 5 W - ATEX/IECEx Version (NBR Seal & Junction Box)
Electrical Connectors
3 metres Cable, Moulded - ATEX/IECEx Version
Junction Box (without Fuse), Moulded - ATEX/IECEx Version
Tag Connectors According to DIN EN 175301-803 (Previously DIN 43650) Form A for Cable Plug Typical 2508
Flow Rate
QNn-Value Air: 900 L/minute
Materials of Construction
Coil Material (Standard, Ex Version): Epoxy
Coil Material: Polyamide
Moulded-in Thread: Brass
Poppet: Plastic
Stopper, Magnet Core: 430FR Stainless Steel 1.4105
Media
Lubricated Compressed Air
Neutral Medium
Non-Lubricated Compressed Air
Mounting Position
Preferably with Solenoid System Upright
Operating Voltages
24 Vdc
24-230 V at 50/60 Hz
24-230 VUC - ATEX/IECEx Version
Pressure Range
psi: 14.5 to 145 (kPa: 100 to 1,000, bar: 1 to 10)
Process Temperature
-10° to 60° C (14° to 140° F)
Response Time
Closing: 30 milliseconds (Pressure Drop 100 to 10 %)
Opening: 50 milliseconds (Pressure Rise 0 to 90 %)
Seat / Seal Material
Core Seal: FKM
Seal Poppet: NBR
Tolerance
Voltage: ± 10 %
Voltage: 10 % - ATEX/IECEx Version