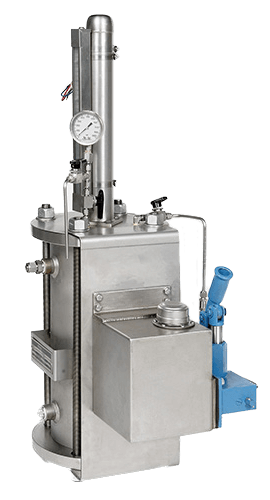 Images are representations only.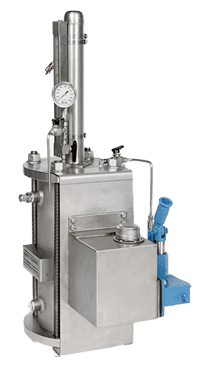 A piston transmitter is a 'pressure multiplier' which generates barrier pressure for double liquid seals from product pressure.

It is used where the pressure in the pump fluctuates, or the inboard seal pressure differential must be limited.

Best used for higher pressures above 50 psi (350 kPa).

Can be executed with cooling coil, instrumentation, refill pump, standard according TuV but can be made according ASME, total volume: 0.8 a
Features
A Piston Transmitter Is A Pressure Multiplier That Generates Barrier Pressure For Dual Pressurized Liquid Seals Based On The Product Pressure.
Used Where The Pressure In The Pump Fluctuates Or The Inboard Seal Pressure Differential Must Be Limited.
Pressure Multiplier Options: 1:1.1, 1:1.15, And 1:1.2.
Best Used For Pressures Above 3.5 Bar (50 Psi).
Can Be Provided With A Cooling Coil, External Heat Exchanger, Instrumentation, And Refill Pump.
Specifications
Operating Parameters
Pressure up to 75.8 bar (1100 psi)
Temperature up to 148° C (300° F)
Volume up to 11.4 Liter (3 Gallon)