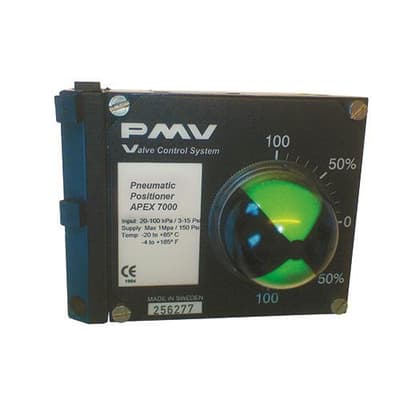 Images are representations only.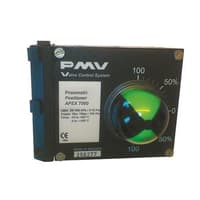 The Apex 7000 Series provides accurate valve positioning with advanced features.

Usable with 3–15 psi pneumatic control signals, or optional current-to-pressure transducer for 4-20 mA signal input.
Features
Corrosive Environment Capability Assured By Epoxy Powder-Coated Aluminum Construction Of All Exposed Parts, Plus Gold-Plated Spool Valve.
Greater Reliability From Compact, Rugged Design With Few Moving Parts.
Broad Application Versatility Provided By Multiple Cam Options.
Equally Well-Suited For Use With Pneumatic Linear Actuators And Cylinders And May Be Installed On Any Actuator Conforming To The NAMUR Standard. Automax Also Offers A Full Line Of Mounting Hardware For Non-NAMUR Actuators.
Installation Ease With Quick And Simple Non-Interacting, Zero-Span Adjustment
Easy Field Upgradability To Electro-Pneumatic I/P Options Without Removing Cover.
May Be Used With 3-15 Psi Pneumatic Control Signals Or Fitted With Current-To-Pressure Transducers For 4-20 MA Signal Inputs.
Specifications
Configurations
Accord Analog Positioners - Apex 7000
Automax Analog Positioners - Apex 7000
Electro Pneumatic
Pneumatic
Worcester Analog Positioners - Apex 7000