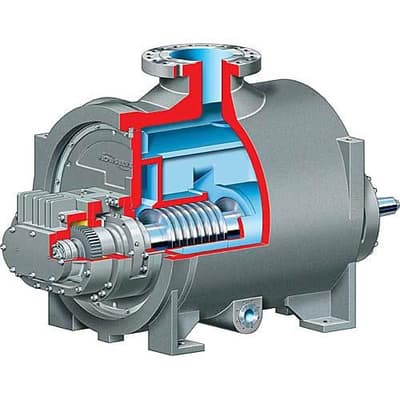 Images are representations only.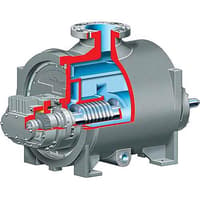 The MP1 is a double suction, twin screw pump designed for continuous service in high viscosity applications where multiple phases are expected.

With its unique double case design, it acts inherently as a separator to run multiphase products up to 100% gas void fractions at a wide range of flow rates, pressures, and viscosities.
Features
Double-Suction Design Provides Balanced Hydraulic Loads By Channeling Incoming Flow To The Screw Inlets At Each End Of The Pump.
External Bearings And AGMA 11 Timing Gears Are In Separate Oil Reservoirs To Eliminate Exposure To The Pumped Fluid.
Versatile ISO 21049/API 682 Seal Chamber Readily Accommodates Multiple Seal Types And Meets HSE Regulations Without Modification.
Split Bearing Bracket Construction Facilitates Easy Maintenance Of Individual Bearings And Mechanical Seals.
Modular Non-Welded Casing Is Available In Multiple Standard And Specialty Alloys.
Nozzles Integral To The Outer Casing Insulate The Inner Casing From Piping Loads, Helping To Maintain A Non-Contacting Shaft Design.
Screws Integral With Shaft To Prevent Deflection During High Loading.
Unique Dual Case Design Retains Liquid For Operation At High GVF In Multiphase Applications.
Specifications
Operating Parameters
Flows to 2250 m³/hour (10000 gpm)
Gas Void Fractions up to 100 %
Pressures to 50 bar (720 psi), Custom Designs for Higher Pressures
Temperatures to 450° C (850° F)
Viscosities to 8000cP
Size Range
Sizes from 150 mm (6") to 500 mm (20")