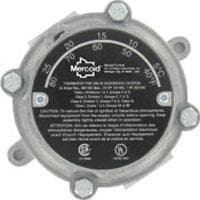 Images are representations only.
Explosion-proof, heavy duty, the Model 862E Thermostat is designed for hazardous-location temperature control.

It is the most dependable, smallest, lightest and most durable thermostat available.

The 862E is designed to control heating, cooling, or ventilation systems and features an adjustable set point knob for easy and convenient setpoint adjustment.

The thermostat incorporates reliable snap action switch operation in SPDT configuration rated to 480 VAC max.
Features
Explosion-proof enclosure
No exposed copper or brass
Lightweight and durable
CFC & mercury free
Precision die-cast components
Bimetal sensing element
Corrosion resistant suitable for H2S environments
Fast acting, reliable, unaffected by altitude
Specifications
Approvals & Certifications
Electrical Rating
22 A at 480 Vac, 1/2 hp at 125 Vac, 1 hp at 250 Vac
Operating Temperature
-45° to 80° C (-49° to 176° F)
Set Point - Decreasing
2° to 28° C (36° to 82° F)
Set Point - Increasing
2° to 28° C (36° to 82° F)
Oil rigs or refineries
Petrochemical plants
Pulp and paper millers
Coal mines
Grain processing and storage facilities
Hazardous waste water storage facilities
Other hazardous locations where specific explosive gases or dusts are present
HVAC control