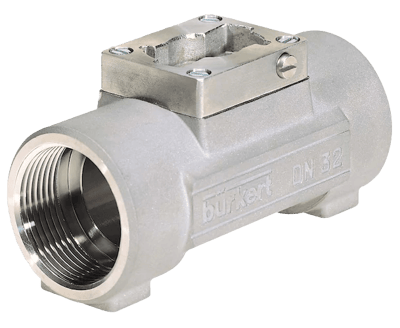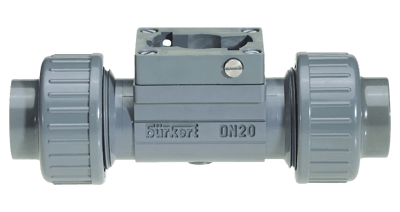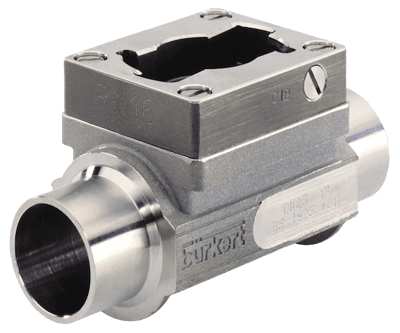 Images are representations only.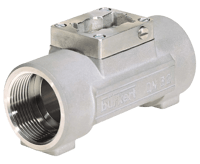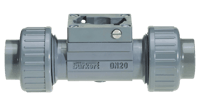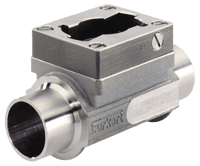 The sensor-fitting S030 has a built-in paddle wheel to measure the flow rate. When liquid flows through the pipe, the paddle wheel is set in rotation producing pulses which frequency is proportional to the flow rate.

The Burkert "INLINE Quarter-turn" technology is a construction ensuring a leakage free operation. The paddle wheel rotation (permanent magnets included in the wheels) is detected contactless through the sensor-fitting wall. The transmitter can be snapped-on or removed without opening the pipe or interrupting the process.
Features
DN06 to DN65
Closed pipe system, sensor inside fitting
Quarter-turn technology
Transmitter available for:


Indication, Monitoring, Transmitting
On/Off control, Batch control
Specifications
Ambient Temperature Range
Operating & Storage (For Sensor-fitting in PP): -15° to 80° C (5° to 176° F)
Operating & Storage (For Sensor-fitting in PVC): -15° to 60° C (5° to 140° F)
Operating & Storage (For Sensor-fitting in Stainless Steel, Brass or PVDF): -15° to 100° C (5° to 212° F)
Approvals & Certifications
Approvals & Certifications
3-Points Flow Calibration Certificate
Certification of Conformity for the Surface Quality (DIN 4762-DIN 4768-ISO /4287/1)
Inspection Certificate 3.1 (According to EN-ISO 10204)
Test Report 2.2 (According to EN-ISO 10204)
BSP Connection
G 1" Female
G 1" Male
G 1/2" Female
G 1/2" Male
G 1/4" Male
G 1-1/2" Female
G 1-1/2" Male
G 1-1/4" Female
G 1-1/4" Male
G 2" Female
G 3/4" Female
G 3/4" Male
1" BSPT Female
1/2" BSPT Female
1/2" BSPT Male
1-1/2" BSPT Female
1-1/4" BSPT Female
2" BSPT Female
3/4" BSPT Female
Diameter
Pipe: 1/4 to 2-1/2" (DN06 to DN 65)
Enclosure, Body Material
316L Stainless Steel, 1.4404
Brass (CuZn₃₉Pb₂)
Polypropylene (PP)
PVC
PVDF
Flange Size - 1/2" (DN 15)
1/2" (DN 15) - JIS 10K (ANSI B16-5)
1/2" (DN 15) - PN 16 (EN 1092-1/B1)
Flange Size - 1" (DN 25)
1" (DN 25) - JIS 10K (ANSI B16-5)
1" (DN 25) - PN 16 (EN 1092-1/B1)
Flange Size - 1-1/2" (DN 40)
1-1/2" (DN 40) - JIS 10K (ANSI B16-5)
1-1/2" (DN 40) - PN 16 (EN 1092-1/B1)
Flange Size - 1-1/4" (DN 32)
1-1/" (DN 32) - JIS 10K (ANSI B16-5)
1-1/4" (DN 32) - PN 16 (EN 1092-1/B1)
Flange Size - 2" (DN 50)
2" (DN 50) - JIS 10K (ANSI B16-5)
2" (DN 50) - PN 16 (EN 1092-1/B1)
Flange Size - 3/4" (DN 20)
3/4" (DN 20) - JIS 10K (ANSI B16-5)
3/4" (DN 20) - PN 16 (EN 1092-1/B1)
Materials of Construction
Paddle Wheel: Polypropylene (PP)
Paddle Wheel: PVDF
Paddle Wheel: Stainless Steel
Measuring Error
Standard K-factor: ± 2.5 % of Reading
Teach-In (Via A Remote Transmitter): ± 1 % of Reading
Media
Neutral
Slightly Aggressive
Solid-free Liquids
NPT Connection
1" NPT Female
1/2" NPT Female
1/2" NPT Male
1/4" NPT Male
1-1/2" NPT Female
1-1/4" NPT Female
2" NPT Female
3/4" NPT Female
Pipe Connection
DN 15 Pipe
DN 20 Pipe
DN 25 Pipe
DN 32 Pipe
DN 40 Pipe
DN 50 Pipe
DN 65 Pipe
DN 8 Pipe
Pressure Range
bar: 0 to 16
kPa: 0 to 1,600
psi: 0 to 232.16
Process Connection Material
316L Stainless Steel, 1.4404
Brass (CuZn₃₉Pb₂)
Metal
Only DN 6 & DN 8: PVC
Only DN 8: PVDF
Plastic
Process Temperature
Sensor-fitting in PP: 0° to 80° C (32° to 176° F)
Sensor-fitting in PVC: 0° to 50° C (32° to 122° F)
Sensor-fitting in Stainless Steel, Brass or PVDF: -15° to 100° C (5° to 212° F)
Screw Material
316L Stainless Steel, 1.4404
Tri-Clamp Connection
DN 15 Tri-Clamp
DN 20 Tri-Clamp
DN 25 Tri-Clamp
DN 32 Tri-Clamp
DN 40 Tri-Clamp
DN 50 Tri-Clamp
DN 65 Tri-Clamp
DN 8 Tri-Clamp
Welded Connection
DN 15 Weld End
DN 20 Weld End
DN 25 Weld End
DN 32 Weld End
DN 40 Weld End
DN 50 Weld End
DN 65 Weld End
DN 8 Weld End