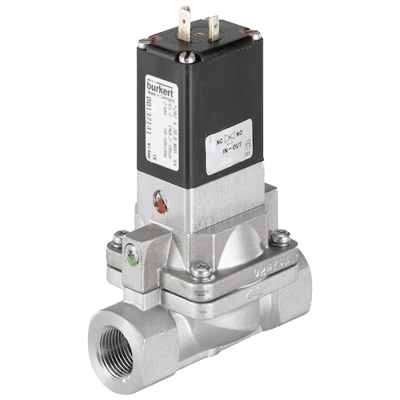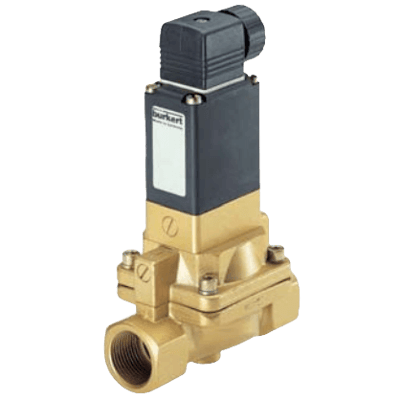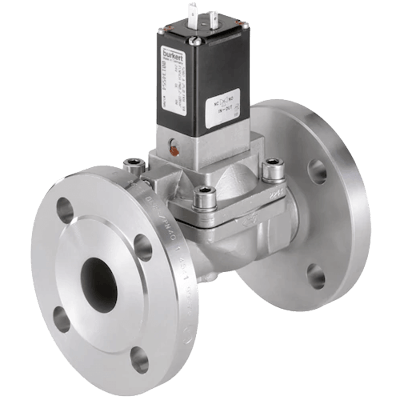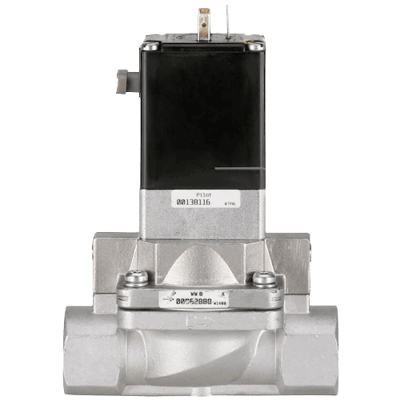 Images are representations only.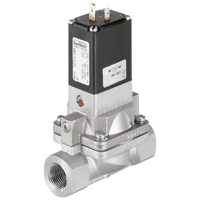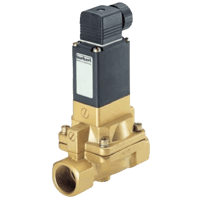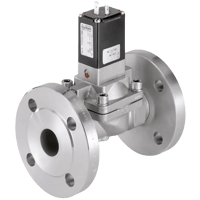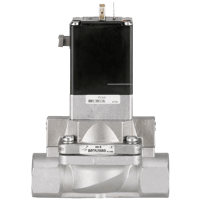 Type 5282 is a pilot actuated solenoid valve using a servo diaphragm.

A separating diaphragm totally isolates the magnetic drive and the fluid. The valve is designed for universal use with gases and liquids.

Type 5282 is the only true full stainless steel and full brass valve. Manual override feature is a standard. Switching times (opening and closing) are individually adjustable.
Features
Pivoted armature pilot drive with manual override
Magnetic drive completely isolated from fluid by diaphragm
Circuit function can be changed (NC or NO)
Adjustable switching times (anti-water hammer)
Tolerates slightly contaminated and aggressive fluids
Specifications
Ambient Temperature Range
Approvals & Certifications
BSP Connection
G 1" Female
G 1/2" Female
G 1-1/2" Female
G 1-1/4" Female
G 2" Female
G 2-1/2" Female
G 3/4" Female
1" BSPT Female
1/2" BSPT Female
1-1/2" BSPT Female
1-1/4" BSPT Female
2" BSPT Female
3/4" BSPT Female
3/8" BSPT Female
Consumption
Power Consumption (AC Hold, DC Cold/Warm): 8 W
Power Consumption (AC): 14 VA / 8 W (Hold)
Power Consumption (AC): 24 VA (Inrush)
Power Consumption (DC): 11 W (Cold/Warm)
Cover Material
316Nb Stainless Steel, 1.4581
Brass
Diaphragm Material
Diaphragm Support: 316Nb Stainless Steel, 1.4581
Diaphragm Support: Brass
EPDM
FKM
NBR
Differential Pressure
psi: 7.252 (kPa: 50, bar: 0.5) is Required to Open the Full Orifice
Electrical Connectors
Cable Plug According DIN EN 175301-803 Form A
Electrical Contacts
Normally Closed
Normally Open
Enclosure, Body Material
Threaded Port: Brass According to DIN EN 50930-6
Valve, Threaded Port: 316Nb Stainless Steel, 1.4581
Environmental Protection
Hazardous Locations Explosion-proof EEx M/ed, CGA/AGA
IP65 with Cable Plug
Flange Material
321 Stainless Steel (1.4541)
Flange Size - 1-1/2" (DN 40)
Flange Size - 1-1/4" (DN 32)
Materials of Construction
Coil Encapsulation: Epoxy
Mounting Position
Preferably Connected Upright
NPT Connection
1" NPT Female
1/2" NPT Female
1-1/2" NPT Female
1-1/4" NPT Female
2" NPT Female
2-1/2" NPT Female
3/4" NPT Female
Orifice Size
0.51" to 2.55" (13 to 65 mm)
Pressure Range
psi: 0 to 232.1 (kPa: 0 to 1,600, bar: 0 to 16)
Process Temperature
EPDM: -30° to 90° C (-22° to 194° F)
FKM: 0° to 90° C (32° to 194° F)
NBR: 0° to 80° C (32° to 176° F)
Response Time
Closing: 1 to 4 seconds (Pressure Relief 100 to 10 %)
Opening: 0.1 to 0.8 second (Pressure Build-Up 0 to 90 %)
Seat / Seal Material
Seal: EPDM (Medium: Oil & Fat Free Fluid, Alcaline Solutions, Hot Water)
Seal: FKM (Medium: Hot Air, Peracetic Acid, Hot Oil)
Seal: NBR (Medium: Neutral Fluid, Such as Compressed Air, Water, Hydraulic Oil)
Spring Material
301 Stainless Steel, 1.4310
Tolerance
Voltage Tolerance: ± 10 %
Voltage
230 V / 50/60 Hz
24 V / 50/60 Hz
24 Vdc