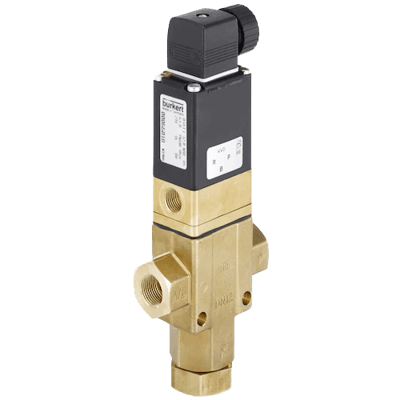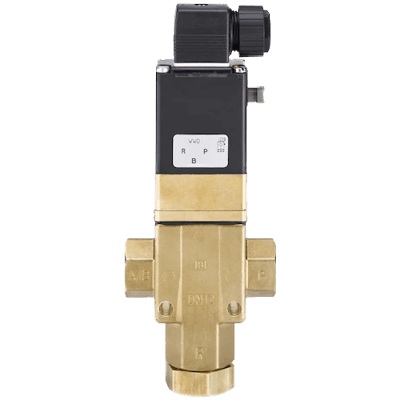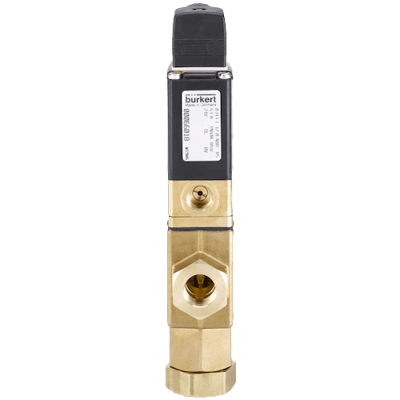 Images are representations only.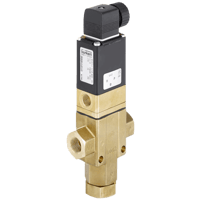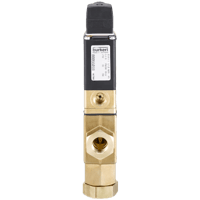 The pilot-controlled 3/2-way valve Type 0343 with a smoothly operating servo-piston requires no differential pressure for complete opening and closing.

A 3/2-way pilot valve (Pivoted armature valve) ensures safe and reliable operation. It is available in circuit function C and D.

The externally controlled valve, Type 0343, requires auxiliary pilot air of at least psi: 29.01 (kPa: 200, bar: 2) above the operating pressure.
Features
Service friendly manual override
Analytical pilot valve for increased safety
Externally controlled and vacuum suited
Specifications
Ambient Temperature Range
BSP Connection
G 1" Female
G 1/2" Female
G 1/4" Female
G 1-1/2" Female
G 1-1/4" Female
G 2" Female
G 3/4" Female
G 3/8" Female
Consumption
Power Consumption (Hold AC): 15 VA (Hot Coil)
Power Consumption (Hold AC): 8 W (Hot Coil)
Power Consumption (Hot/Cold Coil DC): 8/11 W
Power Consumption (Inrush AC): 30 VA
Duty Cycle
Continuous Operation 100 % ED
Electrical Connectors
Cable Plug for Ø 7 mm Cable, According to DIN EN 175301- 803 Form A
Electrical Contacts
Normally Closed
Normally Open
Flow Rate
Water: 0.95 to 24 QNn (L/min)
Materials of Construction
Media
Hydraulic Oil
Neutral Gasses
Oils
Water
Mounting Position
Preferably with Actuator Upright
NPT Connection
1" NPT Female
1/2" NPT Female
1/4" NPT Female
1-1/2" NPT Female
3/4" NPT Female
Orifice Size
0.314" to 1.574" (8 to 40 mm)
Pressure Range
Vacuum to psi: 0 to 116 (kPa: 0 to 800, bar: 0 to 8)
Process Temperature
0° to 90° C (32° to 194° F)
Response Time
Opening, Closing: 25 to 250 milliseconds
Tolerance
Voltage Tolerance: ± 10 %