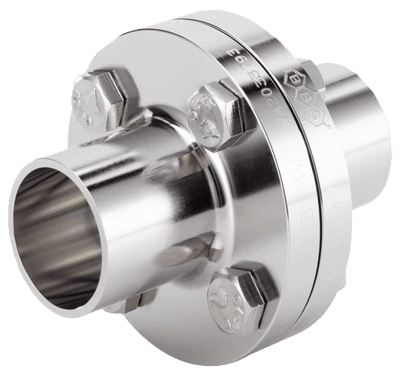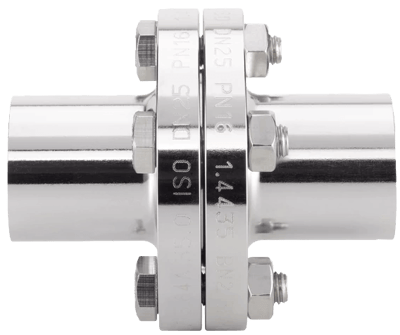 Images are representations only.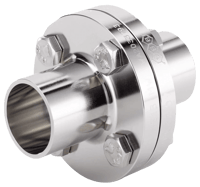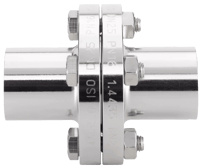 The aseptic flange connection has been developed with aseptic applications firmly in the mind. It is available in virtually all sizes, standards and configurations.

The design incorporates use of a standard dimension O-Ring which gives flexibility of material choice. For increase process security and improved cleaning capabilities we recommend BBS-06 sterile flanges.
Features
Design According to DIN DIN 11864-2
All medium contact materials traceable
Component of the BBS modular system
Specifications
Ambient Temperature Range
-20° to 80° C (-5° to 175° F)
Applications
Biotechnology
Chemical Industry
Cosmetics
Dairy Industry
Food
Pharmaceuticals
Approvals & Certifications
Approvals & Certifications
Material Certificate 3.1
USP VI
Enclosure Finish
Electro-Polished (Medium Contacted Surface < Ra 0.8 μm)
Materials of Construction
Medium Contact: 316L Stainless Steel (1.4435)
Medium Contact: 904L Stainless Steel (1.4539)
Medium Contact: Hastelloy (2.4602)
Medium Contact: Titanium
Medium Separated: 303 Stainless Steel, 1.4305
Operating Pressure
psi: 145 to 362.6 (kPa: 1,000 to 2,500, bar: 10 to 25)
Operating Temperature
EPDM: -40° to 90° C (-40° to 194° F) - Temporary to 140° C (284° F)
FEP Seal Material: -60° to 160° C (-76° to 320° F) - Temporary to 205° C (401° F)
Pipe Connection
1" Pipe (DN 25)
1/2" Pipe (DN 15)
1-1/2" Pipe (DN 40)
2" Pipe (DN 50)
2-1/2" Pipe (DN 65)
3" Pipe (DN 80)
3/4" Pipe (DN 20)
4" Pipe (DN 100)
Seat / Seal Material
Seal: EPDM
Seal: FEP
Seal: FFKM
Seal: PTFE
Biotechnology
Pharmaceutical
Chemical industry
Dairy
Food
Cosmetic