Images are representations only.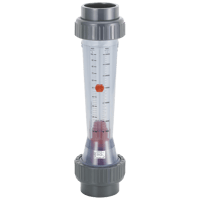 If a medium with sufficient flow rate flows from bottom to top through a vertically inserted measuring tube, then the floated element raised so far, till an equilibrium between the lift strength of the medium itself and the weight of the floated element is adjusted.

Since the average flow rate is proportional to the flow quantity per time unit, the determined equilibrium corresponds to the flow volume. Flow meters with solenoid floated elements can be equipped with limit value contacts.
Features
Flow measurement for translucent liquids and gases
DN 10 to DN 65 mm
Specifications
Ambient Temperature Range
Class
Accuracy: Class 4 According to VDE/VDI 3513 Sheet 2
Connection Material
Internal Thread: Malleable Cast Iron
Internal Thread: V4A Stainless Steel
True Union, Internal Thread: PVC-U
Welded Sleeve, Weld End, Internal Thread: Polypropylene (PP)
Welded Sleeve, Weld End, Internal Thread: PVDF
Materials of Construction
Float (without & with Solenoid), Inserts: PVDF
Measuring Tube: Polyamide (PA)
Measuring Tube: Polysulfon (PSU)
Measuring Tube: PVC-U
Media
Aggressive Fluids
Neutral
Mounting Position
Vertical Medium Current from Below to Above
Nominal Pressure
psi: 145 (kPa: 1,000, bar: 10) - Max.
O-Ring Material
Seal O-Ring: EPDM
Seal O-Ring: FPM
Pressure Drop
psi: 0.06 to 0.69 (kPa: 0.45 to 4.8, Mbar: 4.5 to 48)
Process Temperature
40° to 100° C (104° to 212° F)