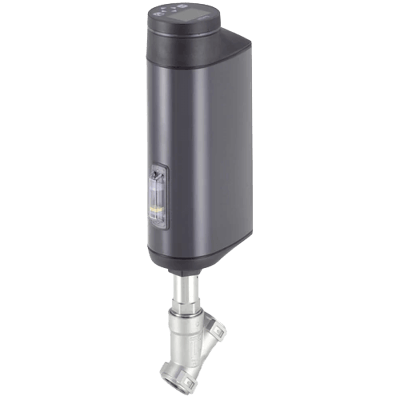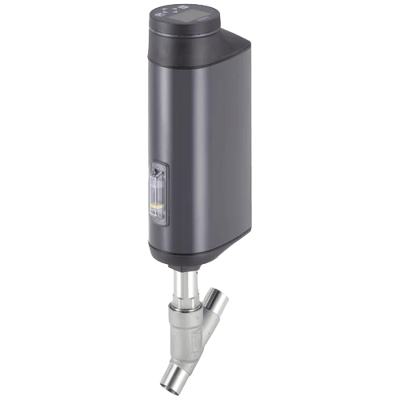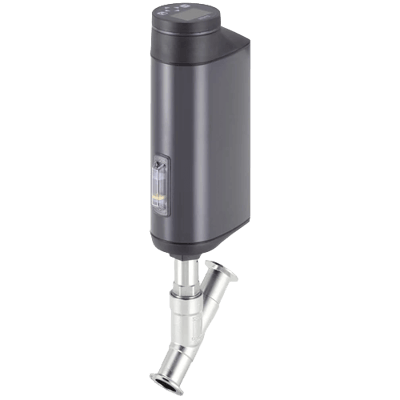 Images are representations only.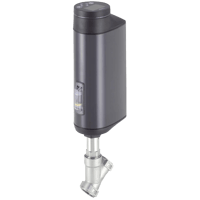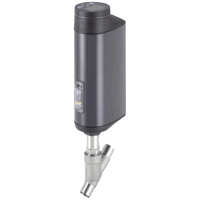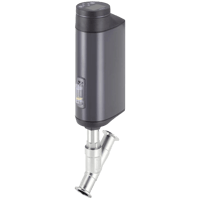 The innovative process controller Burkert valve Type 3360 is the solution when it comes to control tasks under demanding operating conditions.

The electromotive actuator with ball screw positions the control come with highest precision. A unique feature is its high positioning speed of 6 mm/s, that reacts quasi delay-free to process signals, and can be varied according to customer demands.

Pressure variations or shocks in the medium aren't transferred to the valve position. If necessary, the safety position can be approached by an optional energy storage in case of power failure. Actuator and valve are adapted perfectly to each other with closed design and robust surface. This ensures the hygienic requirements of a fast and residue-free cleaning.

Harsh environment are no problem for the Type 3360 because of the protection class IP65 / IP67 and its high impact and vibration resistance.

Unrivalled cycle life and sealing integrity is guaranteed by the proven self adjusting spindle packing with exchangeable V-seals.

The fieldbus suitable Type 3360 provides many helpful functions for process monitoring, valve diagnostics and predictive maintenance and thus offers the decisive advantage of a modern process automation.
Specifications
Ambient Temperature Range
With SAFEPOS Energy Storage: -25° to 55° C (-13° to 131° F)
With Touch Display: -25° to 60° C (-13° to 140° F)
Without Touch Display: -25° to 65° C (-13° to 149° F)
Approvals & Certifications
Battery Life
Energy Storage SAFEPOS Energy-Pack: 10-Years - Depending on Operating Conditions
BSP Connection
G 1" Female
G 1/2" Female
G 1-1/2" Female
G 1-1/4" Female
G 2" Female
G 3/4" Female
1" BSPT Female
1/2" BSPT Female
1-1/2" BSPT Female
1-1/4" BSPT Female
2" BSPT Female
3/4" BSPT Female
Communication
EtherNet/IP
Modbus/TCP
PROFINET
Cone Material
Control: AISI 316Ti Stainless Steel, 1.4542
Current
Analog Control (Setpoint): 0-20 mA
Analog Input (Pt100) Measuement Current: 1 mA
Operating: 3 A, Max.
Deadband
0.1 % Min. (DN 20 or Bigger)
0.2 % Min. (DN 10, DN 15)
Electrical Connectors
2 x M20, Cable Gland
Circular Plug-In Connector M12, 5-Pin (Only by Process Controller) & 8-Pin
Enclosure, Body Material
Actuator: Aluminum Powder-Coated
Valve: 316L Stainless Steel
Frequency
Measurement Range: 0 to 6,500 Hz
Input
0-5 V (Log 0) - Inverted Input Reversed Accordingly
10-30 V (Log 1) - Inverted Input Reversed Accordingly
Analog Input Set Point: 0-10 V at (Input Resistance 22 kiloohms) - Galvanically Isolated from the Supply Voltage & Analog Output
Analog Input Set Point: 0-20 mA at (Input Resistance 60 ohms) - Galvanically Isolated from the Supply Voltage & Analog Output
Materials of Construction
Actuator (Top, Bottom Part): Polyphenylene Sulfide
Measuring Range
Analog Input: -20° to 220° C (-4° to 428° F)
Media
Alcohols
Alkali Solution
Fuel
Hydraulic
Neutral Gases
Oil
Organic Solvents
Salt Solution
Steam
Water
NPT Connection
1" NPT Female
1/2" NPT Female
1-1/2" NPT Female
1-1/4" NPT Female
2" NPT Female
3/4" NPT Female
Operating Pressure
psi: 232 (kPa: 1,600, bar: 16)
Output
Analog Burde (Last): 0 to 560 ohms (For Current Output 0-20 / 4-20 mA)
Analog: 10 mA - Max.
Digital Current Limit: 100 mA
Packing Material
Spindle: PTFE V-Seals with Spring Compensation
Power
Electronic without Actuator (W): 2-5 W, Max.
Process Temperature
Seat Sealing (PEEK/Steel), (Steel/Steel): -10° to 185° C (14° to 365° F)
Seat Sealing (PTFE/Steel): -10° to 130° C (14° to 266° F)
Resistance
Analog Input (4-20 mA): 60 ohms
Analog Input (Frequency): > 30 kiloohms
Resolution
Analog Input (Frequency): 1 % of Measurement Value
Analog Input (Pt100): < 0.1° C (< 32.18° F)
Response Time
Closing Time: 2.3 to 4.3 seconds (Depending on Stroke)
Seat / Seal Material
Control Cone Seal: 316Ti Stainless Steel, 1.4542
Control Cone Seal: PEEK - Disc for Soft Seat Sealing
Control Cone Seal: PTFE - Disc for Soft Seat Sealing
Seal: EPDM
Shock
Mechanical: 50 G According to IEC 60068-2-27 Test Ea
Spindle Material
AISI 316 Stainless Steel, 1.4401
Guidance: AISI 316L Stainless Steel, 1.4401
Tri-Clamp Connection
1" Tri-Clamp
1/2" Tri-Clamp
1-1/2" Tri-Clamp
1-1/4" Tri-Clamp
2" Tri-Clamp
3/4" Tri-Clamp
Tube Connection
1" Tube
1/2" Tube
1-1/2" Tube
1-1/4" Tube
2" Tube
3/4" Tube
Vibration
Sinusoidal: 5 G According to IEC 60068-2-6 Test Fc
Voltage
Analog Control (Setpoint): 0-10 V
Welded Connection
1" Weld End
1/2" Weld End
1-1/2" Weld End
1-1/4" Weld End
2" Weld End
3/4" Weld End