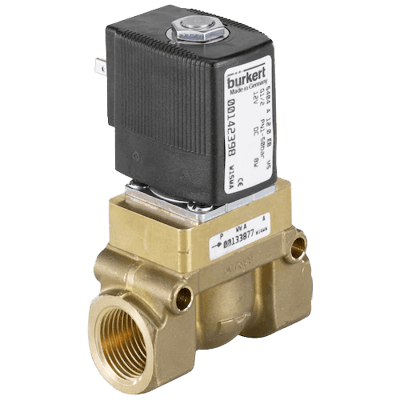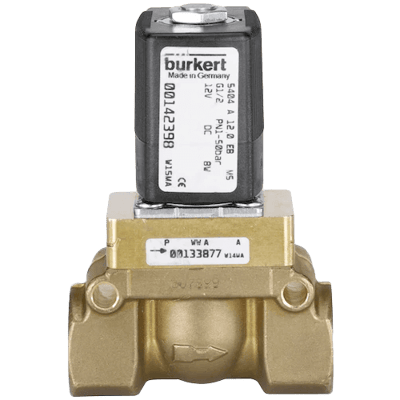 Images are representations only.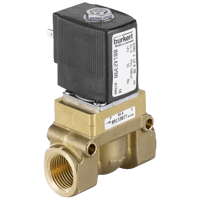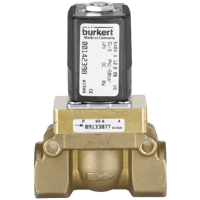 The 5404 valve is a servo-assisted piston valve available in both NC and NO versions.

A minimum differential pressure is required for the valve switching function. The standard brass housing satisfies all European drinking water requirements.

The solenoid coils are moulded with high-quality polyamide.

For reduced energy requirement, all coils can be delivered with electronic power reduction.

In combination with a plug in accordance with DIN EN 17301-803 Form A, the valves satisfy protection class P65.
Features
Servo-assisted piston valve with diameter of up to DN 25
Vibration-proof, screwed coil system
Moulded housing with high surface quality
Explosion proof versions
Suitable for gas and steam applications
Specifications
Ambient Temperature Range
Approvals & Certifications
ATEX: PTB 14-ATEX-2023 x II 2 G Ex Mb IIC T4 Gb II 2D Ex Mb IIIC T130° C (266° F) Db, PTB 15-ATEX-1011U
IEC Ex PTB 14.0049 x Ex Mb IIC T4 Gb Ex Mb IIIC T130° C (266° F) Db, PTB 15.0037U
UL
UR
BSP Connection
G 1" Female
G 1/2" Female
G 3/4" Female
1" BSPT Female
1/2" BSPT Female
3/4" BSPT Female
Consumption
Power Consumption Hold AC (Hot Coil): 14-16 VA
Power Consumption Hold AC (Hot Coil): 7-8 W
Power Consumption Hold DC (Hot/Cold Coil): 8/9.5 W
Power Consumption Hold DC (Hot/Cold Coil): 9 W - Ex Coil with Internal Rectifier
Power Consumption Inrush AC: 24 VA
Power Consumption Inrush, Hold AC (Hot Coil): 9 VA - Ex Coil with Internal Rectifier
Electrical Connectors
Form A for Cable Plug Typical 2508
Junction Box
M20 x 1.5
Tag Connector According to DIN EN 175301-803
Electrical Contacts
Normally Closed
Normally Open
Environmental Protection
IP65 with Cable Plug
Vibration-Proof
Flow Rate
Water: 2 to 10 Kv (m³/hour)
Materials of Construction
Armature Guide Tube: 305 Stainless Steel, 1.4303
Coil, Cable Plug: Polyamide
Coil: Epoxy
Stopper, Plunger: 430FR Stainless Steel (1.4105)
Media
Compressed Air
Hydraulic Oil
Neutral Media
Water
Mounting Position
Preferably with Actuator Upright
NPT Connection
1" NPT Female
1/2" NPT Female
3/4" NPT Female
Orifice Size
0.47" to 0.98" (12 to 25 mm)
Pressure Range
Liquids & Gases - psi: 14.5 to 725.2 (kPa: 100 to 5,000, bar: 1 to 50)
Process Temperature
0° to 100° C (32° to 212° F)
Response Time
Closing: 100 to 1,500 milliseconds (Depending on Orifice & Differential Pressure)
Opening: 20 to 400 milliseconds
Seat / Seal Material
Piston Seal: PTFE
Plunger Seal: FKM
Plunger Seal: NBR
Spring Material
301 Stainless Steel, 1.4310
Tolerance
Voltage Tolerance: ± 10 %
Voltage
24 Vdc
24-230 V / 50 Hz, UC