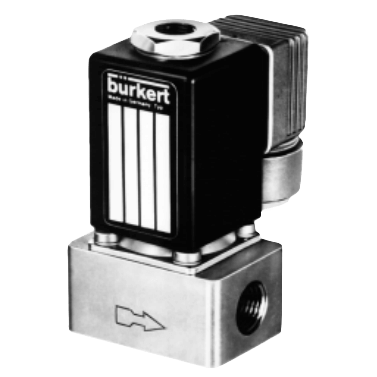 Images are representations only.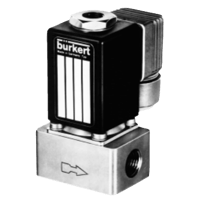 Type 253 is a 2/2 normally-closed plunger-type solenoid valve. When energized, the solenoid armature is pulled-in against a spring and the valve opens.

As a standard feature, the valve seat is made of stainless steel in order to avoid erosion. The solenoid epoxy encapsulation efficiently dissipates the heat generated by the coil.
Features
Normally closed
Body material: Brass
Compact design
Fluid temperatures 0° to 180° C (0° to 356° F)
Coil replacement does not require fluid to be isolated 
Specifications
Ambient Temperature Range
Applications
Heating
High Temperatures, Such as Hot Water, Steam, Hot Air, Thermal Oils
Impregnating
Neutral Gases & Liquids, Pneumatic Control
Sterilizing
Consumption
Power Consumption (AC): 14 VA (Hold) - Actuator
Power Consumption (AC): 21 VA (Inrush) - Actuator
Power Consumption (DC): 8 W (AC Hold) - Actuator
Cycling Rate
Approximately 1,000 cycles/minute - Actuator
Duty Cycle
100 % Continuously Operated - Actuator
Electrical Connectors
Cable Plug for 7 mm Ø Cable, Moulded-in, Temperature Resistant Cable
Environmental Protection
Cable Plug or Cable IP65 - Actuator
Flow Rate
Air: 140 to 240 QNn (L/minute)
Water: 0.120 to 0.230 Kv (m³/hour)
Materials of Construction
Valve Internals: 316Ti Stainless Steel, 1.4542
Valve Internals: 430FR Stainless Steel, 1.4105
Mounting Position
Preferably with Solenoid System Upright
Operating Voltages
24-240 V / 50 Hz - Actuator
Orifice Size
0.07" to 0.11" (2 to 3 mm)
Pressure Range
AC, DC - psi: 0 to 90 (kPa: 0 to 600, bar: 0 to 6)
Process Temperature
0° to 180° C (32° to 356° F)
Response Time
Closing: 30 milliseconds - Valve
Opening: 20 milliseconds - Valve
Seat / Seal Material
PTFE (Fluids Handled: Hot Water, Steam Alkaline Washing & Bleaching Lyes, Hot Oils, Carbon Hydroxide) - Valve
Seat: 303 Stainless Steel (1.4305 (DN 2))
Seat: 440B Stainless Steel (1.4112 (DN 3))
Temperature Range
PTFE: -40° to 180° C (-40° to 356° F) - Valve
Tolerance
Voltage Tolerance: ± 10 % - Actuator
Neutral gases and liquids, pneumatic control
High temperatures, such as hot water, steam, hot air, thermal oils
Heating
Sterilizing
Impregnating