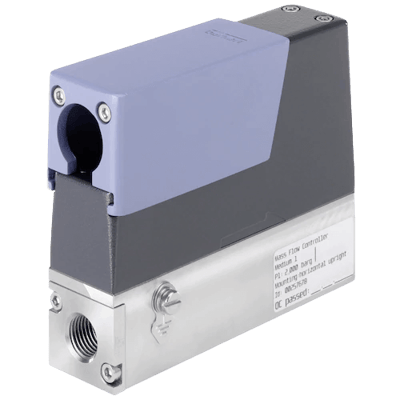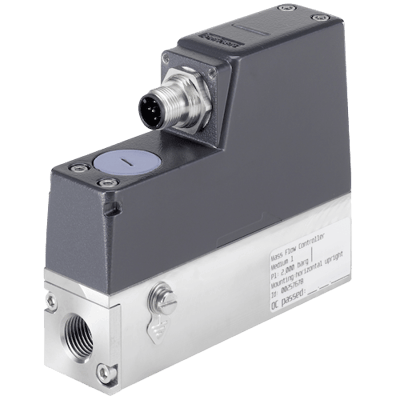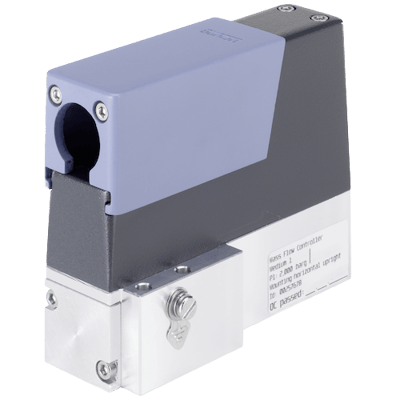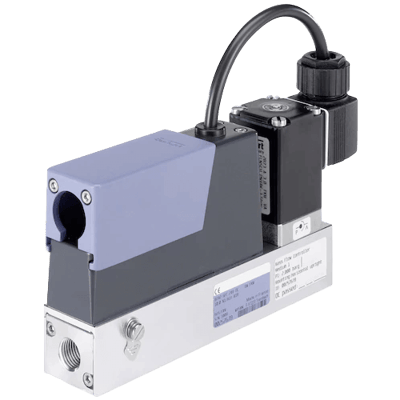 Images are representations only.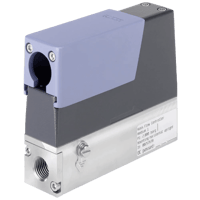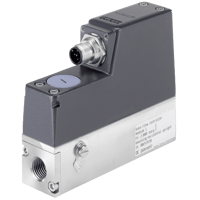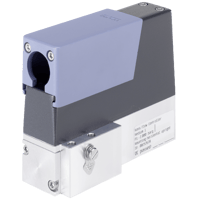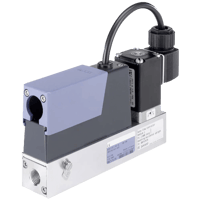 Type 8742 can be configured either as MFC or MFM and is intended for the use in a büS or CANopen network. The büS network technology which is based on CAN physics was developed by Bürkert especially for applications with quite a number of control loops run by Industrial Ethernet or other fieldbuses.

The System Control Unit (SCU) Type ME2X (please see datasheet) transfers a customer's PLC fieldbus into the proprietary büS communication and operates all connected electronic devices.

The communication of the devices can be switched from büS to CANopen. Given that, Type 8742 can also be integrated into an existing CANopen infrastructure.

Type 8742 measures (MFM) or controls (MFC) the mass flow of gases using a MEMS sensor. The sensor is in direct contact with the gas and therefore reaches very fast response times of a few hundred milliseconds.

Furthermore, the measurement is independent from pressure or temperature deviations. The MFC/MFM can be optionally calibrated for two different gases, the user is able to switch between them.

A direct-acting solenoid control valve from Bürkert's excellent 287x series as regulating unit ensures high sensitivity and good fl ow control of the device. Type 8742 is especially designed for use in harsh environments due to high IP and explosion protection.
Specifications
Accuracy
After 1 Minute Warm-Up Time: ± 0.3 % of Full Scale
After 1 Minute Warm-Up Time: ± 0.8 % of Reading
Ambient Temperature Range
-10° to 50° C (14° to 122° F)
Approvals & Certifications
ATEX Compliance II 3 G Ex NA IIC T Gc x & II 3D Ex Tc IIIC T °C Dc X
Communication
CAN Bus
Digital
Ethernet
FOUNDATION Fieldbus
USB
Consumption
Power Consumption: 1 W (as MFM)
Power Consumption: 3-10 W
Enclosure Finish
Aluminum Die Casting (Coated)
Environmental Protection
Explosion-proof
Protection Class: IP65
Protection Class: IP67
Flow Rate
Control Valve: 0.00006 to 0.32 m³/hour (Kvs Value)
Nominal Flow Range: 0.01 to 80 LPM
Indication
Device Status: RGB-LED based on NAMUR NE107
Orifice Size
Control Valve: 0.05 to 4 mm
Process Temperature
-10° to 60° C (14° to 140° F) with Oxygen
-10° to 70° C (14° to 158° F)
Response Time
Setting (MFC)/(MFM): < 300 milliseconds